Naperville North students hold peaceful protest in solidarity with Parkland, Fla.
Hundreds of Naperville North High School students peacefully walked out of class on March 14 to advocate for gun control and to honor victims of the Feb. 14 Parkland shooting. It is believed to be the largest student-led demonstration at NNHS in decades.
Participating students left their classrooms at 10 a.m. to gather in the stadium for an event that included speeches, 17 minutes of silence and a call for teen voting participation. For each minute of silence, a name of a victim from the Parkland, Fla. shooting was read aloud.
Sophomore Elena Castillo was pleasantly surprised by the large turnout.
"As a school that's gone through so much, I think it's beautiful that hundreds of students stood out here in the cold, and that we just got to be here together to remember the fallen students of not just that shooting but the ones in the past," Castillo said.
The crowd was noticeably solemn and silent during much of the event and showed respect toward those leading and protecting the event. While the walkout participants appeared attentive and respectful, NNHS student Ella Powers thought many students were unsure of the entire message of the protest, but was glad they came.
"I really didn't think that this many people would come out here. When people were standing over there and the cars were honking as they'd drive by, I wasn't expecting that either," Powers said.
The NNHS student body joined an estimated 3,000 schools across the country to take a stand against gun violence, including Naperville Central High School, Metea Valley High School, Neuqua Valley High School and Waubonsie Valley High School. The nationwide movement, known as the National School Walkout, emerged shortly after the Marjory Stoneman Douglas High School shooting. NNHS student organizers extended the event to last 45 minutes, and the crowd remained silent throughout.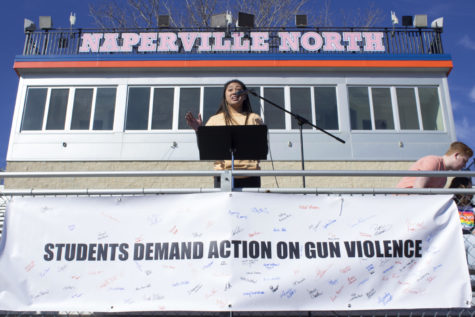 Jacob de Waard
"It kinda sucks that this is what we have to do to get our voices heard," Powers said. "We're in high school, and this shouldn't be a problem for us in the first place and that fact that it is is disappointing."
About 50 non-student protesters lined the side of Ogden Ave. to show their support for NNHS students and their activism. Community member Doreen Schweitzer was glad to see students being politically active and making a statement.
"All of us here think this is a really important issue and we would like to see some kind of common sense gun control," Schweitzer said. "Obviously we're all in favor of that issue. We've had some beeps and some support from people going by."
There was also a small group of counter protesters, including Jennifer Nannetti, who found the students' protest to be "silly."
"There's thousands of more deaths from heroin overdoses, opioid abuse and abortion. The least of our problems is guns. You guys should be protected by guns," Nannetti said.
However, many student protesters disagreed. During a speech by freshman Clea Summers, she shared the promise she made to a survivor of the Parkland shooting.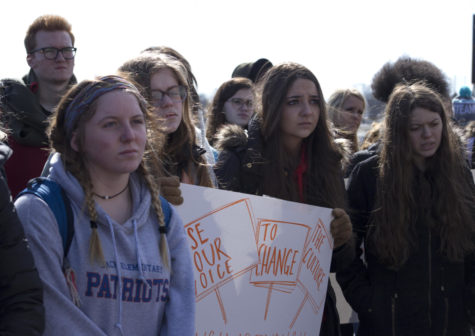 Jacob de Waard
"She told me that she can not be angry as long as she is devastated and therefore it is my job to be angry. We all need to be angry," Summers said.
Robyn Pease and Mike Trubshaw contributed to this report
Kirubel Mesfin
Leave a Comment