Breaking news: student altercation and chase in cafeteria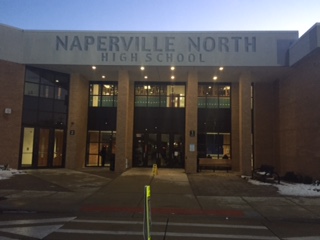 A sedate lunch period at Naperville North today turned briefly into chaos when a male student physically assaulted a female student before leading staff and police on a chase around the large cafeteria, according to witnesses.
Naperville police and school staff apprehended the student. NNHS principal Stephanie Posey said the altercation occurred during 5th period and was dealt with by the deans.
The incident occurred on the final day of classes before Thanksgiving break. Sophomore Nate Luckman witnessed the incident and described the confusion.
"I was in the lunch line and I heard some commotion, but it wasn't like the normal lunch commotion," Luckman said. "[The student] was running around and I thought he was just being funny."
Posey said that the situation is being handled commensurately.
"We take the safety and security of both staff and students very seriously," Posey said. "You can expect that we're going to deal with it swiftly and in the best interest of the school community."
Leave a Comment