Column: American patriotism is still important in divided times
Sexual harassment. Police brutality. Gun violence. Climate neglect. Government scandals. The news today seems like an endless cascade of reasons to detest the United States. When Donald Trump was inaugurated as president, some viewed it as a vanguard of America's downfall. For many, patriotism can seem like an impossible task.
But in troubled times like these, patriotism is more important than ever.
It's important to draw a distinction between patriotism and nationalism. A Big Mac-brandishing white nationalist chanting "USA! USA!" is not a patriot. Patriotism is innate pride and respect for the country, while nationalism is unquestioned faith in it. Patriotism entails a willingness to improve the country; nationalism is driven by feelings of national identity and supremacy. Patriots are the people who hold the country accountable and encourage reform.
In that vein, someone who makes their criticisms of the United States heard is more patriotic than one who wraps themself in an American flag and trumpets "America-first" rhetoric — the latter fails to acknowledge the country's shortcomings and ultimately does the country a disservice.
This country needs patriots. In a time of division and uncertainty, it is up to patriots to call attention to problems in government and society and lead the fight to fix them. They do this not because they hate the country, but because they love it enough to know that it can do better.
No American who claims to be a patriot can be indifferent to the injustice faced by other Americans. For example, when former quarterback for the San Francisco 49ers Colin Kaepernick knelt during the National Anthem in protest of police brutality, Trump insulted him with profanities and called his actions "a total disrespect of our heritage."
However, Trump is the one disrespecting the country through his refusal to recognize and act on a major problem in the United States: police brutality against African-Americans. What is truly patriotic is Kaepernick's commitment to sparking a nationwide conversation and calls for reform. Kaepernick's dissent is a form of patriotism.
Viewed from the present, it may seem the past provided a more benevolent environment for patriotism than does today's political climate. In 1945, jubilant citizens took to the streets, flags in hand, to celebrate the Allied victory in Europe and the subsequent end of World War II. In 1969, citizens watched proudly as astronauts Buzz Aldrin and Neil Armstrong planted an American flag on the moon. In 2001, Americans watched in terror as airplanes collided into the Twin Towers. They vowed to protect their precious homeland from the threat of terrorism. In these times, it was easy to be a patriot.
Today's patriotism is different. Today, patriots take to the streets not in celebration but in protest.
In the words of Martin Luther King Jr., "I criticize America because I love her. I want her to stand as a moral example to the world."
Go ahead and criticize the United States. Berate politicians on social media. March in protest. Chant, kneel, shout, Tweet.
But do it out of love for the country. The United States is flawed and always will be, but it deserves people willing to advocate tirelessly for progress. From the colonists' first battle against taxation without representation to the modern day Black Lives Matter movement, the United States has fostered a culture in which citizens can (and do) fight against injustices they face.
It's on all of us to keep this practice alive.

About the Writer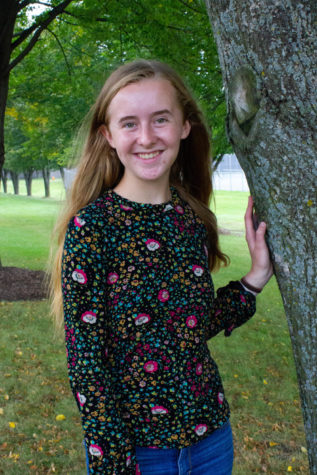 Emily Welp, Features Editor
Emily Welp is a senior at Naperville North High School and is returning for her second year on The North Star staff and her first year as features editor....