The North Star staff's favorite holiday recipes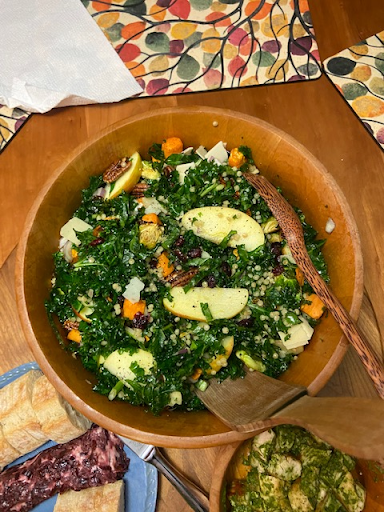 Thanksgiving is arguably one of the best holidays when it comes to food. While I can appreciate the peppermint hot chocolate and the smell of pine trees, nothing surpasses a home-cooked Thanksgiving feast. Though, the joy of the holiday is truly in the name: giving thanks. On the contrary, birthdays and Christmas are centered around gift giving and getting, Thanksgiving is simply about uniting family and friends, appreciating each other's company, and, of course, enjoying delicious food. In the spirit of the holiday, the North Star staff would like to contribute to the celebration by sharing a few of our own Thanksgiving recipes. 
First, from our Editor-In-Chief Faye Tyschper, a traditional Polish dish: Pierogies. Although typically served on Christmas Eve, they can certainly double as a new favorite Thanksgiving side dish. 
Ingredients:
2 cups of all-purpose flour

½ teaspoon of salt

¼ cup vegetable oil

¾ cup water

6 tbsp. unsalted butter
Instructions:
Place the flour and salt in a large bowl. Combine vegetable oil and water in a liquid measuring cup. Add ¾ of the water & oil mixture to the dry ingredients and combine until a dough forms (a

dd more liquid if your dough doesn't come together, or a bit more flour if your dough is too sticky; you've added the right amount of liquid if the bowl is almost clean when you finish stirring).

Knead the dough lightly for about 5 minutes and set aside to rest for 10-15 minutes.

Make your fillings (see variations below).

Divide the rested dough into 4 equal portions. Roll each into a log about 1 ½ inches in diameter. Divide the roll into 5-6 pieces, flatten and with a rolling pin roll each piece of dough into a circle, then into disks about ¼ inch thick with a 4-inch diameter.

Fill your dough with about 1 tablespoon of filling (or more!) in the center and fold the dough over the filling. Pinch the edges of the dough firmly together with your fingers to make sure the seal is secured.

If you aren't planning to cook the Pierogis right away, you can store them in the refrigerator covered with plastic wrap. You may also freeze them by placing them on a baking sheet and then transferring them into a plastic bag once frozen.

Bring a large pot of salted water to a boil and drop in about 12 pierogies at a time. Cook for 2-3 minutes or until they float to the surface.

Heat a large skillet over medium heat, adding the 6 tbsp. butter. Once the butter is melted, transfer the pierogies from the water to the skillet and fry each side until golden brown (about 1 minute each side), or to your liking!

Serve with sour cream and chopped green onions for some extra flavor!
Filling Options :
Potato (& potato with bacon): Boil 5 large russet potatoes until they are tender (about 20 minutes). Drain the potatoes and let them cool until they are comfortable to handle. Place the potatoes in a bowl, and mash them until they are mostly smooth, with a few chunks remaining. Add 2 tablespoons of butter to your mashed potatoes and mix until fully incorporated. Season with salt and pepper to taste. If you'd like, you can also fry up some bacon, chop it up, and mix that into the potato filling as well!
Sauerkraut (fermented, raw cabbage): For a saltier alternative, take a 14-ounce can of sauerkraut, drain it, and add it to the center of your pierogi dough. 
Cinnamon-Cheese: A traditional Polish take on cheese-filled dumplings. Take 2 cups of farmers' (or cottage) cheese, and combine in a bowl with 2 teaspoons of ground cinnamon. Add to the center of your pierogi disks.
Plum: My great-grandmother's favorite! Take a 16-ounce can of drained, whole plums and place one in the center of year pierogi disks
A note from Faye: Whether you're making Pierogies for a holiday party, weeknight dinner or just a cozy night in, these dumplings are a staple in the Tyschper household during the holidays, and I hope they become one of yours too! Szczęśliwego gotowania! (Happy cooking!)
Next, a delicious apple pie recipe from one of our Managing Editors, Grace Ainger. While my favorite course of Thanksgiving has to be the dinner feast, we wanted to make sure those of you with a sweet tooth were well accounted for. 
Ingredients: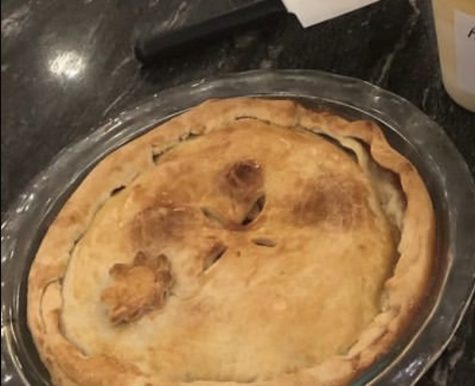 For the crust:
2 ½ cups of all-purpose flour

1 tsp of salt

1 ½ stick of COLD butter

ICE water, up to 8 tablespoons
For the filling:
2 ½ pounds of granny smith apples (about 4 apples)

¾ cup white sugar

2 tablespoons all-purpose flour

½ teaspoon of salt

1 tsp of cinnamon 

¼ teaspoon of nutmeg

Half a lemon
Eggwash
1 egg beaten

Sugar to top
Instructions:
In a bowl, mix together the flour and salt

Add in cubed butter and massage into the flour mixture. It should still have lumps that resemble small peas

Gradually add the ice water a tablespoon at a time. The mixture should come together. If it's tacky or sticky, add more flour. You should not need all the water.

Work the dough together with your hands and make it into a flat circle. Cover with plastic wrap and refrigerate for at least 2 hours. I recommend 24!

Preheat your oven to 375 degrees.

Peel the apples and slice them into medium to thin slices (the thinner they are, the softer they will become so, slice to your liking).

In a bowl add the apples, sugar, flour, salt, cinnamon, nutmeg and lemon juice.

Mix until all apples are evenly coated. Refrigerate for max 1 hour (you don't want too much juice to seep out).

On a floured surface, cut the pie circle in half and roll one half into an ⅛ inch-thick circle. Roll large enough to reach the top edge of your pie dish all the way around.

Place dough in your dish and pour apple mixture (with juice) into it.

Roll the other half and place it on top of your filled pie.

Trim edges and crimp/close the edges of both circles together. Leave no holes in the dough!

Brush the pie with egg wash and sprinkle with sugar. Cut four-six slits on the top of the pie to vent the pie.

Bake pie for 50-60 minutes until golden brown then cool completely and serve with ice cream! 
Back on the savory side, staff writer Hannah Castro has graciously shared a family recipe for your enjoyment: Aunt Rita's cheesy hashbrowns. We all have an aunt with exceptional cooking skills, consistently elevating holiday meals. This Thanksgiving, thanks to Hannah, that could be you. 
Ingredients:
2 boxes of 4-count frozen hash browns, thawed

1 pint of sour cream

2 packages of shredded sharp cheddar cheese

1 tsp. garlic salt

1 cup parmesan cheese

1 can cream of potato soup
Instructions:
Preheat oven to 350 degrees.

In a large bowl, use a spoon to break apart hash browns.

Add the rest of the ingredients to the hash browns and stir to combine.

Pour into a greased baking dish and bake for one hour.
Now is the perfect time for me to share my absolute favorite holiday salad. Thanksgiving meals tend to be on the heavier side so I like to add in some fresh vegetables. Not to say that steamed green bean casserole doesn't meet your necessary vegetable serving. This fall-inspired salad is perfect for any occasion and will certainly be a fan favorite this Thanksgiving. 
Ingredients: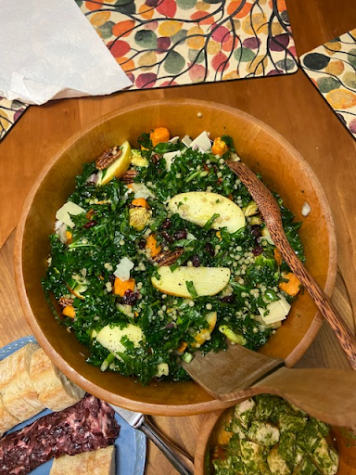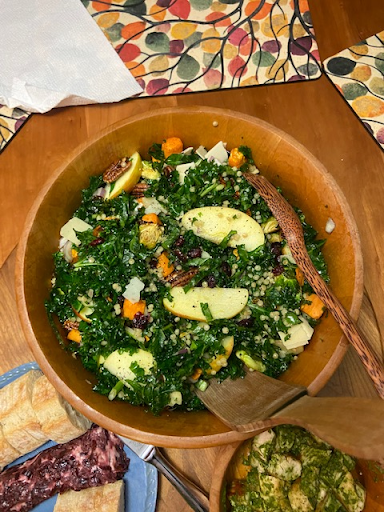 Salad
3 bunches of chopped and washed kale

1-1 ½ honey crisp apples

1 sweet potato (medium in size)

1 avocado 

¾ cup of chopped pecans

Seeds of 1 pomegranate

⅓ cup of dried cranberries

½ cup of couscous

½ cup of cranberry goat cheese
Dressing
Juice of 1 lemon

½ cup of extra virgin olive oil

1/2 tablespoon maple syrup

1 tablespoon Dijon mustard 
Instructions:
Preheat the oven to 400 degrees.

Cut sweet potato into even-sized cubes, toss in olive oil, salt, and pepper and roast for 18-20 minutes. Let cool for 5 minutes. 

Boil ½ cup of couscous (see box for the correct ratio of water to couscous). Let cool for 5 minutes. 

Cube the avocado and cut the apple into matchstick pieces.

Seed pomegranate and chop pecans, if not pre-chopped. 

Assemble the dressing and pour it onto the kale; be sure to massage the kale for a good minute.

Add all ingredients and crumble goat cheese over the top. 

Feel free to substitute or add any vegetables/fruits you feel would pair well.
Now that vegetables are taken care of it's time for more dessert! From one of our NOW Producers Sarah Driscoll we are bringing you icebox cookies. If you have never heard of these sweet treats, much like myself, follow this simple recipe for a guaranteed new favorite dessert. 
Ingredients:
3 cups heavy whipping cream

1/2 cup sugar

1 teaspoon vanilla extract

1 (9-ounce) package of chocolate wafer cookies
Instructions:
Place the whisk attachment and bowl of the stand mixer in the freezer for 10 minutes. 

Remove from the freezer. Add cream, sugar and vanilla extract to the bowl of the stand mixer and whip until soft peaks form.

Add a moderate amount of whipped cream to half of the chocolate wafers and place another wafer on top of the whipped cream. 

Repeat step three until you are satisfied with height (normally around 6 wafers)

Transfer the sheet pan to the refrigerator and chill for a minimum of 6 hours, but preferably overnight. Garnish cakes with cherry and chocolate-covered espresso beans, chocolate shavings, chopped pistachios or leftover ground wafers before serving.
Bella Ferak, our Multimedia Managing editor, shares her favorite Thanksgiving dish: Antipasto. If this word sounds familiar, you've probably seen it on the menu at an Italian restaurant or in a culinary magazine. Inviting us into her big family, we can all enjoy a traditional Italian dish this Thanksgiving. 
Ingredients:
1 container of grape tomatoes cut in half

1 jar of marinated artichokes drained and cut up

1 jar roasted red peppers cut up or freshly made

1 can of black olives or olive of your liking

1 jar of hot cherry peppers(drained)

2 containers of fresh mozzarella balls

½ lb of Hormel dilusso genoa salami cut up

½ lb Hormel sliced pepperoni chopped

½ lb mild sliced provolone cut up

Well-seasoned Italian dressing made with balsamic vinegar and olive oil
Instructions:
Chop all ingredients, combine in a bowl, add dressing and mix to serve. 

Enjoy!
It wouldn't be Thanksgiving without, you guessed it, pecan pie. Our final recipe is from our Special Projects and Features Editor Grace Aigner, it's her Grandmother's pecan pie. 
Ingredients: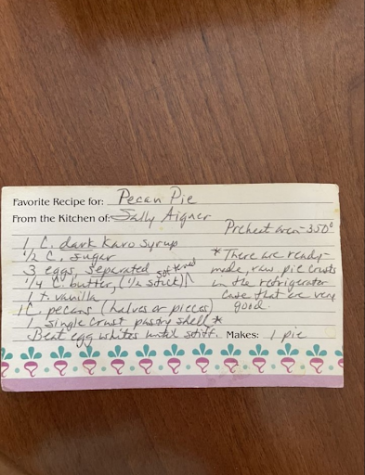 1 cup dark Karo syrup 

½ cup sugar

3 eggs, separated 

¼ cup butter (½ stick-softened)

1 teaspoon vanilla

1 cup pecans (halves or pieces)

1 single-crust pastry shell
Instructions:
Preheat the oven to 350 degrees.

Beat egg whites until stiff. Set aside.

Beat egg yolks. Then beat in Karo, sugar, softened butter and vanilla.

Stir in pecans.

Slowly and gently fold in beaten egg whites. 

Pour into the raw pie shell. 

Bake for about 45 minutes or until set. 
I hope you enjoyed this collection of The North Star's Thanksgiving favorites. Whether it be sweet potato salad or pecan pie, I hope these recipes inspire you to contribute to your holiday feast this year. 
Happy Cooking!