Column: Ross Miner robbed of Olympic dream
In an eruption of applause, Ross Miner hit the ending pose of his senior long program in a moment of tears, sweat and glory at the U.S. Figure Skating Championships in San Jose, Calif.
The four minute and 30 second program, packed with seven clean triples and a quad salchow, was enough to earn the Boston-based skater the crowd's support and a silver medal– behind only Nathan Chen.
Despite his solid placement, Miner was left off the Pyeongchang Olympic team, chosen as second alternate behind Jason Brown, who finished off the podium in sixth place.
The U.S. Figure Skating Olympic selection committee considers its team based on three tiers of criteria for each skater. The top tier includes results from the 2018 U.S. Championships, 2018 International Skating Union's Grand Prix final, and the 2017 World Championships, respectively, are most highly regarded.
If the selection committee actually followed that criteria, Miner would have been placed on the Olympic team over the U.S. Championships' bronze medalist Vincent Zhou.
While Miner did not qualify for the 2017 World Championships or Grand Prix Final, neither did Zhou. In comparison to Miner's seven years of skating on a senior, international level, this is only Zhou's first. Despite his strong third place skate at the U.S. Championships and his international success as the 2017 Junior World Champion, the decision to send Zhou over Miner is unreasonable.
U.S. Figure Skating President Samuel Auxier told reporters at a press conference that the committee had struggled to make their decision, but after reviewing programs throughout the season, they ultimately doubted Miner's consistency and ability to earn a medal in Pyeongchang.
"Ross had an amazing, lights-out performance…. However, we have to look at the body of work, and Ross does amazing at U.S. Championships but has struggled at international competitions," Auxier said.
Auxier's comments are accurate, but they do not reflect the errors in the selection process: why would an athlete with strong first-tier criteria even compete at Nationals if a second place finish is not enough to send them to the Olympics?
While it is arguable that the selection committee should be sending the younger talent of the sport with their years ahead of them, Miner has proven that he is still a top-caliber skater, and his performance at Nationals shows his abilities as both an athlete and performer.
"I know it's not a fluke… [performing is] what I do in training at home, and it was such a good feeling to put it out there at the big game and show what I'm capable of," said Miner of his skate to a Queen medley.
In a post to Instagram on Jan. 14, Ross thanked his fans for their outpouring of support, alongside a photo of him after his senior free program.
"I just wanted to say thank you for the tremendous outpouring of support I've received. I'm disappointed with the things I couldn't control, but I am INCREDIBLY proud of how I performed under pressure… Getting the silver medal was amazing, but damn this moment felt gold," he captioned the photo.
Both of the Championship's Gold and Pewter Medalists were deserving of their Olympic spots. Nathan Chen, 18, was a shoo-in for the team as the 2017 and 2018 U.S. Champion; he will be a major contender for gold in Pyeongchang. His training mate, Pewter medalist Adam Rippon, is the 2016 U.S. National Champion, and won two silver medals on the Grand Prix circuit in the fall of last year to qualify for the 2017 Grand Prix Final, where he placed fifth. Despite his flawed program at Nationals, his experience as the eldest senior competitor combined with his international success makes him a fair choice for the team over Miner.
Ross Miner's cut from the 2018 Olympic Team is a clear indication that the U.S. Figure Skating Olympic selection committee needs to change their selection criteria. The committee should put less emphasis on the results of the U.S. National Championships, or should reevaluate the importance they put on each tier of results. The organization is skating on thin ice, and these changes need to be made to move forward.

About the Writer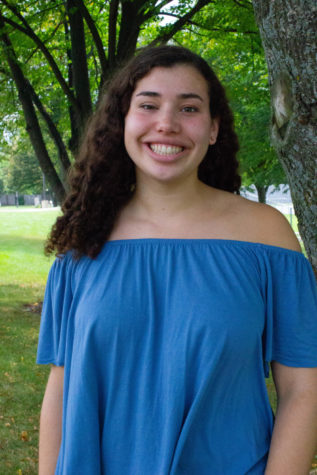 Rachel Hale, Managing Editor
Rachel Hale is a Junior at Naperville North and this is her second year working on The North Star staff. She is looking forward to being Managing Editor...