Find the dress to impress
As turnabout and prom season quickly approaches, girls are eager to search for the perfect dress. From 'Boho' lace gowns to two-piece sequined options, these five stores are sure to end the hunt for your flawless evening look.
Peaches Boutique
One of my all-time favorite places that will end the search for a glamorous gown is Peaches Boutique. Although the journey to Archer Avenue is a bit of a drive, this destination has dazzling dresses for any occasion. I strongly recommend making the trip in the morning because the store's evening hours can be extremely busy and overwhelming.
Free People
Looking for a gorgeous dress, but trying to break away from the stereotypical sparkle-studded gown? Free People offers more bohemian options for the chicest fashionista. Although the majority of the dresses are only available online, they offer a variety of options.
Bri'Zan
If you are looking for a dress that you spotted at the senior fashion show, look no further than Bri'Zan Couture. Located in the heart of downtown Naperville, this retailer is the perfect destination for glitz. Although their dresses run a bit expensive, they do not disappoint. Their friendly associates and wide array of options make it easy to find a gown for any formal occasion.
Rent The Runway
For those not jumping at the opportunity to empty their wallets on a one-time wonder of a dress, Rent The Runway is the perfect solution. This online retailer offers dresses for any occasion to rent. For about $100, you are able to order a top designer dress in two sizes in case one dress does not fit.
Til Dress Do Us Part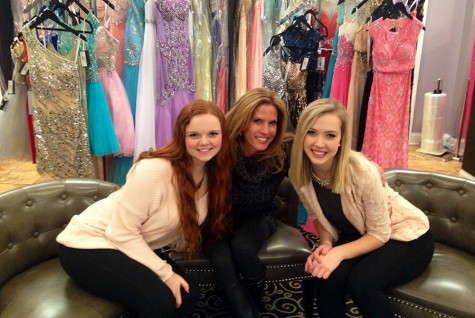 The newest addition to downtown Naperville, Til Dress Do Us Part, carries popular designers from Sherri Hill to Jovani. Located at 236 S. Washington St., this retailer sets itself apart from others by advertising "dresses off-the-rack at a discount," providing new and gently used dresses and offering the option of custom ordering a dress for a specific size or color.
Senior Rebecca Ciesla likes the business approach that Til Dress Do Us Part offers.
"I like Til Dress Do Us Part because it gives you the option of buying dresses for cheaper," Ciesla said. "You only wear them once, so you don't want to spend a lot of money on them."
If you want a closer look at Til Dress Do Us Part, check out "The North Star's" Naperville's Best to see a sample selection.