In-person school day elicits frustration among Naperville North students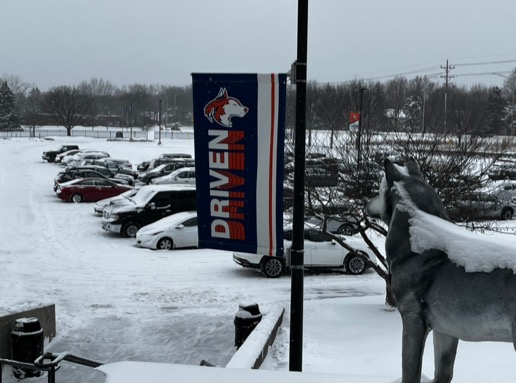 Some Naperville North students braved a difficult, snow-pelting commute to school Wednesday, but a significant number of students stayed home or left early.
After students, parents and teachers braced for an e-learning day on Tuesday, Superintendent Dan Bridges tweeted at 5:16 A.M. on Wednesday morning: "After consulting with @Naperville203 staff, @NapervilleIL and neighboring districts, @Naperville203 will open as planned. Be patient and allow some extra time today." 
Later on Wednesday, the superintendent made a follow-up statement, explaining his original rationale for keeping schools open. He also announced a cancellation of after-school activities. 
"At 4:45 a.m.…factors indicated that, while travel may be slow and we would need to exercise caution, we could have a typical school day. Unfortunately, the conditions changed quicker than expected," Bridges wrote. "We have made the decision to cancel all after-school athletics and activities today, Wednesday Feb. 2."
Bridges included in the statement that all student absences due to the weather would be excused.  
Many students who did decide to come to school did not feel good about their decision, ultimately.
"I mostly came to school because my mom wanted me to," senior Tiffany Cheng said. "My commute felt like I was playing Mario Kart, because I kept skidding. After I saw that Bridges excused absences, I realized that I should have just stayed home."
The pressure from parents was recurrent among students' decisions to attend classes. 
"My mom basically made me come. I had to shovel my whole driveway before I could leave the house, and I missed first period," senior Sean Carstens said. 
Tardiness was not uncommon. Major roads, like Ogden Avenue, were slippery and covered with slush. Snowplows tirelessly removed snow from roads all morning, only to have their work quickly covered with a blanket of fresh snow minutes later. 
"I live, like, five minutes away from the school," junior Anna Bolla said. "Today it took 30."
When students did arrive, they were greeted by a reduced number of students in their classes. 
"Classes have been really empty. My class sizes were probably half or less than half of what they normally are," Carstens said. "The instruction has definitely been impacted."
That seems to be true across grade levels. Freshman Audrey Konstantelos noticed a decline in instruction as a result of decreased attendance, and regretted going to school. 
"We didn't really do anything in my classes," Konstantelos said. "If I wasn't going to do anything anyways, I wish I would have just stayed home."
Many students who decided to stay home, like junior Gia Lostumbo, felt good about their decisions.
"The thing that baffles me is how many students went to school simply because they or their parents would rather risk their safety than miss one day of school. That in itself is proof to me that we needed a snow day," Lostumbo said. "I genuinely don't understand why the school implemented e-learning during snow days if they won't use it."
Other community members were similarly angered by the decision because of the district's e-learning plan for emergency days, which they announced this year. Students would still learn if in-person instruction was cancelled, but asynchronously and online. Because the district had the infrastructure to continue education virtually, many wondered why they didn't use it. 
That argument, along with multiple others, was made on Twitter Wednesday morning, when Naperville residents woke up to sharp snowfall gradients that resulted in an accumulation of multiple inches of snow.
Upon hearing the news that school would remain in-person, many members of the District 203 community took to the social media platform to voice their outrage. 
"Unbelievable. Yet so believable," one Twitter user wrote. 
"Both you and @ipsd204 aren't realizing you're [sic] gambling with students' [sic] lives because you want them in person," wrote another. "People can and will get hurt."
The Twitter arguments continued to escalate. Later Wednesday morning, the district sent out an email claiming that a graphic impersonating Bridges was circulating on social media and spreading incorrect information about Wednesday's events.
"The graphic makes false claims that serious car accidents have occured and advises that students should not come to school. Please know that this is not a real message and was not sent by Naperville 203 or its superintendent," the email read.
But after all the snow and controversy, in-person classes were in session at Naperville North on Wednesday, for better or worse.
"I didn't need to be here," Bolla said.
Maggie Fitzgerald and Sarah Driscoll contributed to this story.