A pop culture digest for the summer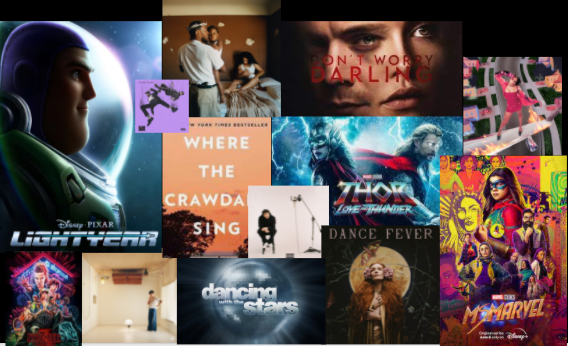 As the school year comes to a close, the excitement for summer is ramping up. Along with nice weather and more sleep, summer is a big time for pop culture. Here are some of the new movies, TV shows and music to look forward to in the coming months: 
MOVIES

There are many movies set for release for this summer that fans of any genre can enjoy. Slated for release on June 17, "Lightyear" tells the backstory of the iconic "Toy Story" character Buzz Lightyear. "Lightyear," with the titular character voiced by Chris Evans, is full of action-packed storytelling. Although it's a more popular title for younger audiences, "Lightyear" is the perfect watch for those searching for some nostalgia this summer.
Among the many exciting titles coming out, Marvel fans will not be disappointed. On July 8, the fourth installment of the Thor films, "Thor: Love and Thunder" will be released. Little about the plot is known, but the trailer leaves many fans excited to discover more about Marvel's beloved God of Thunder.  
For the drama lovers, "Where the Crawdads Sing" will tell the story of Kya, the marsh girl, who raised herself in the the deep South and became a suspect in the murder of a man she once loved. The popular book written by Delia Owens is being adapted by Reese Witherspoon's production company, Hello Sunshine, which has produced critically acclaimed shows and movies such as "Big Little Lies" and "Wild." The trailer also showcased the song "Carolina," written and performed by Taylor Swift. "Where the Crawdads Sing" will be out on July 15.
Lastly, Olivia Wilde's second directorial movie credit, "Don't Worry, Darling," is hitting theaters on September 23. The psychological thriller follows Alice, a 1950s housewife played by Florence Pugh, whose seemingly perfect life begins to crack as she searches for the truth of her community. Pugh and Wilde are accompanied by a slew of popular actors including Harry Styles, Chris Pine and Gemma Chan. Fans can expect a movie full of twists and turns along with excellent acting.
TELEVISION
Along with movies, many exciting TV shows across streaming services and cable are set to return or premiere this summer. The long awaited season four of Netflix's hit show "Stranger Things" has been split into two volumes with the first being released on May 27 and the second on July 1. The multiple trailers  released have not revealed much about the true plot, but fans of the show can expect journeys and adventures unlike any other season.
Marvel fans continue to have great content to look forward to with Marvel's next Disney+ show, "Ms. Marvel." The show centers around Kamala Khan, a 16-year-old who struggles to fit in until she gains power just like her favorite superheroes. The show will premiere on June 8 and is Marvel's first PG-rated content. Although it's for a younger crowd, the show will be full of comedy, action and a strong coming of age story.
Season 31 of the hit show "Dancing with the Stars" is likely to premiere in Sep. 2022 in a new home. The show will be moving from ABC to Disney+ and will become Disney+'s first live show. Fans will still be able to live vote and see the same great dancing we all know and love. 
MUSIC
This summer will have plenty of great music, with few notable albums and songs with solidified release dates. Already, the month of May has brought a plethora of new and exciting albums for listeners to enjoy for the entire summer. 
On May 6, Jack Harlow released his debut album, "Come Home The Kids Miss You," featuring songs such as "First Class" and "Dua Lipa." His pop-rap style has gained popularity on the charts and on TikTok.
May 13 marked the release of three exciting albums, including Kendrick Lamar's "Mr. Morale & the Big Steppers," The Chainsmokers' "So Far So Good" and Florence and the Machine's "Dance Fever." This album will be Lamar's fifth album after a long wait for fans of his fast paced, heavy rap style. After the success of "World War Joy" in 2019, The Chainsmokers' first album since then is full of their electronic-dance style and witty lyrics. "Dance Fever" is Florence and the Machine's fifth album with fans expecting more of their indie, soft sound.
Pop sensation Harry Styles is releasing his third solo album, "Harry's House," on May 20. With the release of "As it Was" at the end of March, fans are incredibly excited to hear more from the artist.
Lastly, TikTok viral dancer turned music artist Tate McRae is releasing her debut album on May 27. Singles and teasers released on TikTok to various songs on the album are leaving fans on the edge of their seats for the album's pop rock sound.
There is so much thrilling content to look forward to this summer. If you're bored on vacation or looking for your next show to binge, movie to watch or song to jam out to, be sure to check out all of these new and exciting shows, movies and albums.