Recipe: A taste of Sabine's French kitchen
Never been to France? This zucchini egg tart will take you. 
My favorite thing about travel is not the historic landmarks, nor the grand churches, but the food. The marvelous thing about food is its ability to allow anyone to truly experience culture. But you don't have to travel to Russia to taste Borscht soup. Food transcends borders, allowing the experience of different cultures to be universal. So if the extent of your travel destinations hasn't reached beyond the gleaming gates of Disney World, we are about to journey far past anything you have explored, aside from maybe Epcot of course. I am going to take you with me as I drive up the winding hills of the French countryside to a humble vineyard in Vaison La Romaine, Provence. Welcome, my friends, to France.
This particular dish originates from the quaint kitchen of Sabine Suter, a kind and soft spoken Frenchwoman who welcomed me into her home, bestowing me with her own recipes, one of which I am about to pass on to you. 
The quintessential Provencal dish might be ratatouille, but this tart uses the beloved vegetables and flavors in a new way. The zucchini (also known as courgette), blends beautifully with the sharp taste of the emmental. With a softer egg based center, the crispy outer coating of cheese creates the feeling of a crusted tart. Full of the rich herbs and produce of Provence, this has quickly become one of my favorite Sunday dinners. Serve with a roll of bread and some protein (maybe even turn on La Vie En Rose) and you will have yourself a very French night indeed.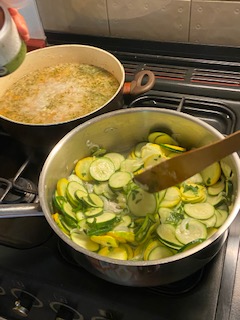 Prep Time: 10-15 minutes
Cook Time: 45 minutes
Total time: 55 min-1 hour
Serves: 8
Ingredients:
4 tablespoons olive oil

1 large chopped onion

500g sliced courgettes

250ml milk

3 eggs

Fresh marjoram or thyme

100g grated emmental

90g long grain white rice
Instructions:
Preheat oven to 350 degrees F.

Cook sliced onions in 2 tbsp olive oil until soft.

Add courgettes (zucchini), salt and pepper and saute for a few minutes. Remove from heat.

In a mixing bowl, pour 1 cup of milk, add 2 tbsp olive oil, eggs, marjoram or thyme and half of the cheese. Season with salt and pepper to taste. Whisk until smooth.

Stir in the onions, courgette mixture and the rice and pour into a gratin dish. 

Pour in remaining milk and sprinkle with Parmesan cheese.

Bake for 45 minutes.
Tip of the week: Don't be afraid to test unfamiliar ingredients in your recipes! Even if you wouldn't enjoy them on their own, in combination with other ingredients and flavors, they could easily become something you enjoy. Be bold and creative. Cooking is not only a way to nurture our bodies, but also a way to express ourselves. 
Happy cooking!