Smart shopping for the spring breaker
Hang on for a minute...we're trying to find some more stories you might like.
More stories from Jess Tamburo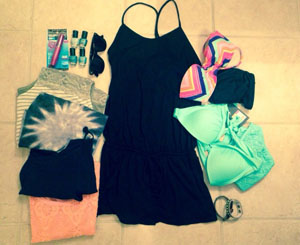 Fashion Advice to Live by: "There is nothing more miserable in the world than to arrive in paradise and look like your passport photo" – Erma Bombeck
Spring break is right around the corner, and students around the country are anxiously awaiting that one week of freedom from the day to day responsibilities of being a student, tutor, cashier, or babysitter. During that week, it's still important to remember to follow our fashion instincts. For many, this means a trip to the mall to grab some must-haves for exotic trips.
Yet, I know one thing for certain. I will not spend hundreds of dollars on clothes and accessories for my one week in paradise. I'm setting my sights on stores such as Target, Nordstrom Rack, department stores, and similar places with the best deals.
Target is my go-to place for cute and affordable clothes. At least for swimwear, no other store offers such an extensive and reasonable selection. Target offers a plethora of options, and I even managed to score a deep blue two-piece, a lacy, baby blue two-piece, and a few others. None of my finds cost me more than $20 either!
However, the bargains do not stop there. I happened to find several tops all under $20: an array of patterns including a lace tank, a grey and white tie-dyed crop top, and of course: a few black loose tanks and tees to pair with denim shorts. These shirts are perfect because brighter colors ease the transition from the darker tones of winter to a bold, summer-color pallet. But the spring break extravaganza does not have to end in the clothing department.
For instance, we all have our pair of treasured sunglasses that must remain untarnished and sand-free, but a pair to toss on for a day at the pool is an absolute necessity. Never spend more than $20 on your back-up sunglasses- that way you won't feel as guilty if you happen to lose them while you're out and about! At Target, I also found a perfect pair of low-cost, black, square-frame glasses and also grabbed a tote on sale for $10.
My experience can easily be yours too. Here are a few important tips to remember when preparing for spring break shopping:
Stick to a budget. Bring less money than you can afford to spend. You will have left-over money for forgotten, last-minute purchases without dipping into your saving funds for the trip.
Don't go crazy on finding name-brand clothing- it will save you tons of cash and will ease the stress if a suitcase gets lost or if clothes get left behind.
Before heading to your usual stores, try some alternatives that sell clothes at lower prices. Many department stores carry last year's swimwear at more affordable prices and carry many of this year's trendy styles.
After a tour around some of Target's trendy selections, it's time to head out and cure the unbearable itch for spring break. You will also have peace of mind knowing you will still have money left over to do a little shopping upon your arrival at your spring break destination.