Liam's Hit O' Miss List: Man of the Woods (Justin Timberlake) Edition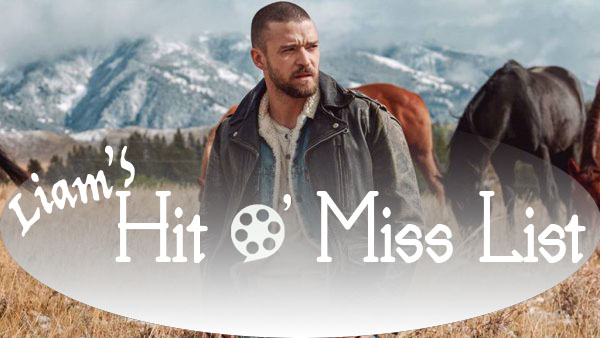 After five years of fans anxiously waiting for an album, Justin Timberlake released his much-awaited "Man of the Woods" on Feb. 5.
While most critics thought of his newest album as incoherent and unoriginal, his many fans, including yours truly, loved the translucent and creative direction he went in. However, what the two groups unarguably agree on is that while there are portions of the album that are lacking, the more solid "Timberlake style" songs are what make JT shine.
When the first song, "Filthy," dropped on Jan. 5, fans were confused on where his new album was headed. Some critics thought of this as his "worst song yet" while others liked the electronic/dubstep mix, reminiscent of one of his most famous hits, "SexyBack." Then, he released single after single each Friday following ("Supplies" and "Say Something"), and more and more fans began to respect the new, "Man of the Woods."
This time around, Justin Timberlake has made an effort to be seamlessly serious in his songwriting. For some, this is the part critics have found to be his downfall, but for me, I see no problem with his change of pace – in fact, I would love to see more of this "Man of the Woods" in the future.
Specifically, the track "Man of the Woods" is where JT becomes his true self. Originally, I didn't know what to expect from the song that was based off the whole album. Thankfully, though, after a clear (and loud) couple listens, I was mildly surprised with what I heard.
Some other songs that peaked my interest include, but are not limited to, "Midnight Summer Jam," "Sauce," "Morning Light (feat. Alicia Keys)," "Flannel" and "Breeze Off the Pond."
Probably the most important of these songs had to be his original release, "Filthy," where it appears in the music video that Timberlake is trying to break his personal self away from the persona his audience has created. The video begins with Timberlake walking out on stage addressing an audience introducing a lifesize animatronic robot that starts dancing and singing in Justin's place. All-the-while, the real Justin is behind the scenes, being the puppetmaster. The audience learns here that the robot is obviously a fake version of Justin Timberlake but it's claiming to be real; its a product that embodies Timberlake's performer persona, known for slick dancing, choreography and signature moves.
But to muse on the nature of celebrity, he's pointing out the way that his onstage persona, Justin Timberlake, with its moves and distinct voice, is merely just a creation that's not really him. He's saying that an artist may think their real identity is their private thoughts and intentions, but once the performer, is out there, engaging with an audience, that persona becomes something interactive and shared: no longer totally in the artist's control. Timberlake is giving us a self-aware critique of the Timberlake persona, while also confessing his vulnerability as a creator. He's the puppeteer that can glitch at any moment in time; the creator who fears he may die before sharing who he truly is. This is why I give Justin Timberlake's "Man of the Woods" album a solid 8/10.
Below is a list of songs which I liked and disliked in "Man of the Woods."
| | |
| --- | --- |
| HIT | MISS |
| Filthy | Supplies |
| Midnight Summer Jam | |
| Sauce | |
| Man of the Woods | Young Man |
| Higher Higher | |
| Wave | |
| Morning Light (feat. Alicia Keys) | |
| Say Something (feat. Chris Stapleton) | |
| Flannel | |
| Montana | |
| Breeze Off the Pond | |
| Livin' Off the Land | |

About the Writer
Liam Stenson, Staff Writer
Liam Stenson is a senior at Naperville North High School and is excited to start a new part of his life as a Staff Writer with The North Star. When he...