Celebrate St. Patrick's Day with festive treats
A green Chicago River can only mean the arrival of one holiday: St. Patrick's Day. This religious and cultural holiday is celebrated in remembrance of the patron saint of Ireland. And today, we celebrate March 17 by wearing green from head-to-toe. Whether you find yourself at the St. Patrick's Day parade or with nothing green in your closet, you can find a way to join the festivities. These snacks are sure to get you in the spirit! 
Shamrock Shakes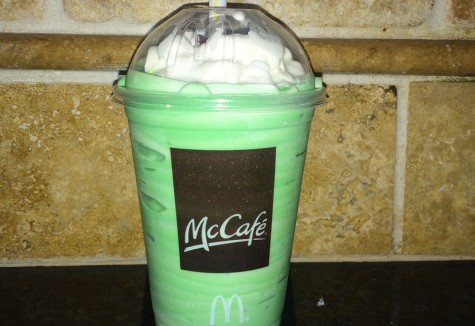 Introduced in 1970, this tasty treat turned into a fundraiser after Philadelphia Eagles player Fred Hill's daughter was diagnosed with Leukemia. This promotion helped fund the development of a "home away from home" to house families who could not afford the cost of hotels where their children were receiving medical treatment. While this minty treat is sold at McDonald's across the nation, it is also easy enough to make in your own kitchen! With only six simple ingredients, this recipe allows you to make the delicious shake without leaving the comfort of your own home.
Green Eggs And Ham
There is no need to worry! This recipe will not have you eating green eggs like the ones found in Dr. Suess' popular children's book. However, it will have you snacking on pretzels covered in white chocolate. This quick recipe will take only five minutes to make, and it will satisfy any sweet-and-salty craving.
Thin Mint Puppy Chow
There is no better way to make this popular snack than to combine it with the Thin Mints! With Chex Mix, Thin Mints and mint chocolate chips, you can create the perfect on-the-go snack. It will also add some green to your day. This recipe earned five out of five stars by The Recipe Critic and were deemed amazing because of "the tiny thin mint cookies that coated the outside."
Shamrock Rice Krispies Treat 
If you love rice krispies treats as much as I do, this recipe is for you. After creating a warm batch of rice krispie treats, this recipe only requires you to use a cookie cutter to shape your creation. Top this festive snack with candy and a pinch of green sprinkles.
Minty Ice Cream Shamrocks
With the temperatures rising, there is only one way to celebrate! With the warmer weather, you can now enjoy ice cream sandwiches. Bring St. Patrick's Day to this frozen dessert by sandwiching mint ice cream between homemade, shamrock-shaped, chocolate cookies. Although the prep and cooking time will take 40 minutes, you will not be disappointed by this Pinterest-worthy wonder.