Essentials for a winter workout
Hang on for a minute...we're trying to find some more stories you might like.
More stories from Jess Tamburo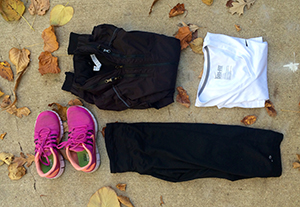 1. Windbreaker/Water Resistant Jacket
From my personal experience, any physical activity done during the winter requires extensive layering in order to prevent hypothermia. The must-have staple to keep warm in this chilly season is a jacket that can be worn over layers to help provide maximum warmth. If you are going participate in activities that could be dictated by unpredictable weather, a water resistant jacket is the way to go. When purchasing, I strongly recommend picking a larger size than usual so that you can flaunt all your layers without looking like a marshmallow popped in the microwave for a few seconds. You can purchase one of these bad boys at any sports retailer; from Nike to Lululemon, there are a variety of options depending on your price range.
2. Leggings (Not the see-through ones!)
The constant fear of having see-through leggings runs through every girl's mind when purchasing these comfy yet casual pants. No need for fear, workout leggings are the solution. The downside of purchasing exercise-ready leggings is that they tend to be a bit pricier than the generic Forever 21 version at a price of $3.80. Although you will be paying a higher price, you generally get a better bang for your buck. Workout leggings tend to be made with thicker, more durable material, perfect for the unpredictable weather conditions of the winter season.
3. Dry Fit Shirts
With exercise wear, dry fit shirts are among the toughest of tops. Whether engaging in a quick workout or a scorching 90-minute yoga session, these shirts will withstand any challenge. Unlike cotton tees (that can come at a similar or higher price), the dry fit material absorbs sweat. This will relieve you of that uncomfortable dripping sweat sensation after a workout. You can purchase them at any local sports retailer (even big box stores like Target carry them) in forms ranging from a tank top to a long-sleeve, light jacket. I strongly recommend adding one of these to your "must have" Pinterest boards.
4. Headbands!
Having had obnoxious layering in my hair since childhood, I can say that headbands top the charts in workout necessities. Until recently, I found myself constantly struggling to find a headband that would stay on my head. After buying a Lululemon headband on impulse, I must say that I am forever changed. Their headbands are among few that will not fall off during a workout. Headbands not only prevent fly-away hairs from interfering with a workout, but they also come in an infinite number of colors, sizes and styles. They are a great investment because they can be worn outside the gym and will save you a lot of money on lost bobby pins.
5. Sassy Shoes
Last, but certainly not least, you need to consider shoes. Every girl wants to walk into the gym wearing a magazine cover-worthy workout outfit. However, this goal cannot be achieved without the perfect pair of kicks. Luckily, there are just about a million ways to go when shopping for the perfect pair of shoes. I prefer to go to the local running store where I can get fitted for a pair that will support my feet and look stylish. Outlet malls are also a great designer destination, and after a trip to the Chicago Premium Outlets, I managed to score two pairs of Nikes for about $100, which was surprisingly inexpensive.
When you find yourself itching for new workout wear, go back to the basics. All five of these simple components are essential if you want to flaunt your best winter workout looks without turning into Jack Frost during the process.