Tips for pairing prints
Hang on for a minute...we're trying to find some more stories you might like.
More stories from Jess Tamburo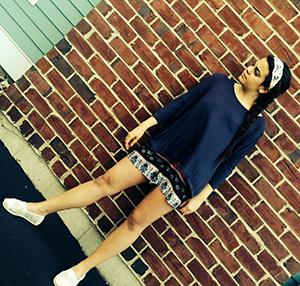 Fashion Advice to Live by: "Fashion is a language. Some know it, some learn it, some never will – like an instinct." – Edith Head
Last weekend, I spent an afternoon on Michigan Avenue, soaking up the sun and the latest trends. Some of the newest windows displayed a trend apart from the brightly colored maxi dresses and mini skirts that tend to welcome the summer.
In my wardrobe, I typically prefer heavy neutrals. I'll occasionally don a colorful print, which I typically pair with solids to lower the intensity of the pattern. But from Macy's to Jimmy Choo, I saw an array of mannequins wearing stripes paired with polka dots, lace complimenting tribal print, and floral overlapping floral. These combos can be difficult to create, and in order to make them work without looking like a train wreck, there are a few tips that will make mixing patterns as simple as can be.
Pair prints with solids. Some prints can be overwhelming, but they can easily be tamed by adding a solid-colored blazer or scarf to the outfit.
Stay in the same color family! When trying to draw attention to an outfit as a whole, it is important to continue the same shade from top to bottom. This will prevent a chaotic outfit and while allowing an edgy flair.
Mix large prints with smaller ones. Rocking a top with thin horizontal lines and a skirt full of thick lines will balance the outfit, giving your look a sophisticated sparkle.
Don't neglect neutrals! When trying to look classy and chic, neutral prints are the way to go. They will leave you feeling classy without having to ditch your favorite tribal top.
Last but not least, remember: at times, mixing patterns can be overwhelming and might bring you out of your comfort zone. But there is no need to worry! There is a way to own this hot new trend without ending up in the worst-paired-prints Hall of Fame.
The solution is one word: texture.
Adding texture to an outfit allows you to transform into the All Mighty Print Goddess without actually wearing more than one print. But how is this possible? It's simple. Pairing a comfy oversized, solid-shade top with tribal print, or leather leggings – if the tribal print is too extreme -will create a polished ensemble. It will be sure to garner attention without the challenge of mixing and matching two individual prints.
With this formula to prints and patterns, it is simple to combine patterns at any store to create a fashionable outfit without feeling like a kaleidoscope of color. Next time you're out at your favorite shopping destination, head to the prints. Regardless if you decide to strut a full patterned outfit or to switch it up with a lace dress and brightly printed shoes, you are already on track to becoming a print queen and will be able to pull off this fabulous power clash without the crash.