Small Talk: Beyoncé's new album is a feminist revolution
Hang on for a minute...we're trying to find some more stories you might like.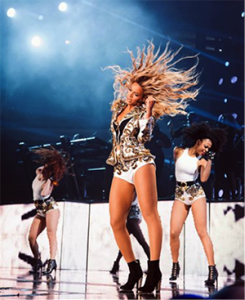 By Opinions Editor James Wendt
On Friday, Dec. 13, Beyoncé released her newest, self-titled album that shatters age-old societal boundaries of gender. Through integration of sound clips, powerful lyrics, and stunning visuals, Beyoncé redirects the conversation of feminism and female sexuality.
Earlier this year, I spoke out about Miley Cyrus' "Wrecking Ball" music video, maintaining that she capitalized on the fact that many consider sex a taboo. This may have some people confused as to how Beyoncé is any different.
Well, Miley's stunts are seemingly driven by submission and media exploitation, whereas Beyoncé's are driven by empowerment and equality. Her album illustrates that female sexuality is about fulfilling one's own desires: not necessarily submitting to those of men, as other icons too often portray.
The album leads with a stirring ballad called "Pretty Hurts," in which Queen B tackles self-image and the societal pressures that drive young girls to compete against their bodies to fulfill expectations of beauty. She dissects the national obsession with perfection and encourages young people to rebel against traditional gender roles, which are the external expectations of how the sexes should act. She criticizes and claims, "Perfection is a disease of a nation // what you can't see is a soul that needs surgery."
Later, Beyoncé integrates a sound clip from feminist Chimamanda Adiche. In the clip, Adiche further explains how truly destructive traditional gender roles are. "We raise girls to see each other as competitors, not for jobs or for accomplishments, which I think can be a good thing, but for the attention of men. We teach girls that they cannot be sexual beings in the way that boys are. Feminist: a person who believes in the social, political, and economic equality of the sexes." With help from Adiche, Beyoncé again preaches the need to combat harmful stereotypes.
In the album Beyoncé sings, "Don't think I'm just his little wife," but she is also certain to acknowledge that people should embrace healthy relationships and sexuality. In her "Drunk in Love" video, it is evident that Beyoncé and Jay Z adore each other. Bey and Jay are each other's king and queen, and several times throughout the album, Beyoncé proves that female prowess is only positive. Society often discourages women from expressing sexuality, maintaining that it is unladylike or inappropriate. The sensuality of the album leaves no doubt that sex is not, as often portrayed, a man's game in which to objectify women, but a game in which both genders are invited to play together.
Both men and women should listen closely to Beyoncé's message. As a gender icon, she not only empowers women, but also men. As life experience and writer Lois Tyson have taught me, gender roles are destructive to both young girls and boys because they construct and maintain socially-manufactured borders. They limit men and their range of emotions to exclude traditionally "feminine" descriptors: obliging, loving, and caring. They also instill a sense that men are superior to women, rendering boys incapable of meaningful relationships and chaining them to expectations of being the strong, stoic providers. Gender roles are especially damaging to women and girls. We raise young girls not necessarily to be individuals, but fragments of people that exist to complete a man: as the other halves. Their physical and emotional needs are expected to come second to those of men.
As with all art, Beyoncé's album invites conversation. If taken out of context, some of the lyrics and visuals can be equally as destructive as the sexually-exploitive media that plagues national psyche. However, in the full context of the album, Beyoncé covers a broad spectrum of female emotions, needs, and capabilities. So, when a mother and daughter, or whomever, have a conversation about Beyoncé's album, they will really be having a conversation about feminism. They might even better understand what a feminist truly is: a person who believes in the social, political, and economic equality of the sexes.