Two Naperville North students featured in state art showcase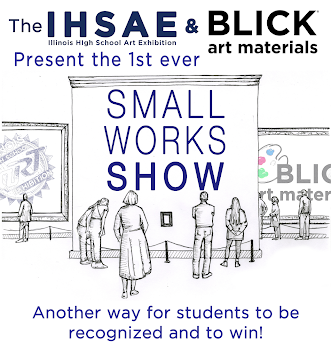 In late November, the Illinois High School Art Exhibition (IHSAE) announced that two Naperville North students, Leanne Wang and Rachel Shen, will be showcased in this year's IHSAE Small Works Show.
Both students created pieces before the IHSAE exhibition and received medals in last year's Regional Scholastic Art Awards Show. Shen hopes to participate in more competitions in the coming year. She explains that she comes away from a competition or showcase with more than just an award.
"The thing I've learned as an artist is not to make pieces specifically for competitions or grades," Shen wrote in an email interview. "I've found that it kind of detracts from how proud I am of the finished work, and it makes me expectant and disappointed when something doesn't do its 'job.'"
IHSAE partnered with sponsor Blick Art Materials to host the Small Works Show this month. To be considered for the showcase, Illinois high school students had to submit their artwork through Instagram beginning in October.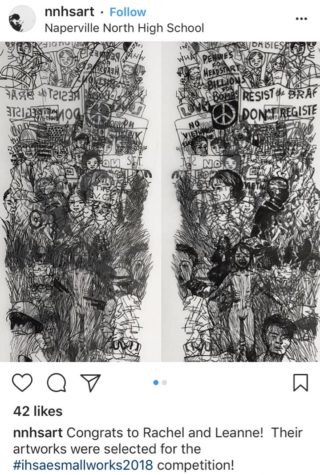 According to Chris Sykora, Assistant Director for the IHSAE, they received more than 120 submissions and 85 of these works were selected to be exhibited. Instagram is an easy way for high school artists to broadcast their art to potential showcasers. The Instagram tag was also helpful for IHSAE in looking through submissions.
"We were really impressed with how many students submitted and we will definitely be doing it again next year as long as Blick agrees to it," Sykora wrote in an email interview.
Blick Art Supplies, being IHSAE's partner and showcase funder, helped manage the selection and display process. Sykora wrote that the criteria for selection was more loose, as Blick representatives, "selected work based on overall quality while trying to represent as many different categories (photo, painting, drawing, design, mixed media) as possible, and to make sure as many schools as possible were represented." After being selected, the artists had until Dec. 10 to mail or hand-deliver their work to the Lincoln Park Blick store in Chicago, where it will be displayed from Dec. 14 to the end of February, according to Sykora.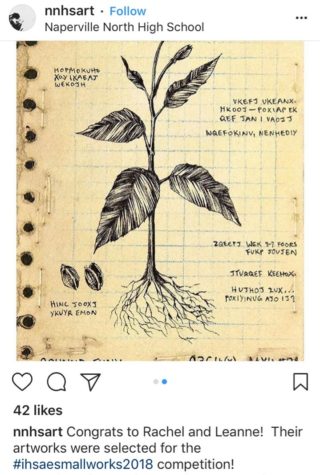 Sykora also hopes that working with Blick in this showcase can help expand the IHSAE's reach. He wishes for the IHSAE to continue to advocate for the visual arts in education by publicly displaying student talent. Through this showcase he hopes that individuals can reflect on both themselves and others.
"We hope that students continue to take advantage of these opportunities and use it as motivation to develop even further," Sykora wrote.
For those interested, head down to the Blick Art Materials store in Lincoln Park, Chicago to see works from high schoolers across the state.
About the Writer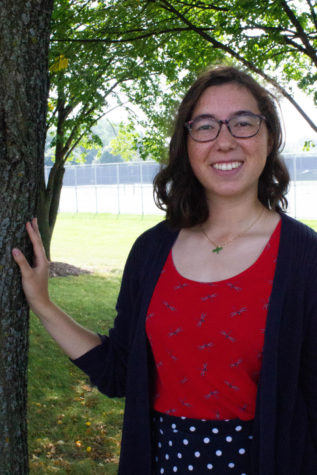 Catrina Kujawa, Staff Writer
Catrina Kujawa has joined the news team as a senior at Naperville North. She is ready to take on any role to help out her newsroom teammates. She's not...