Column: Kanye West makes surprise visit to Naperville
Rapper Kanye West made an unexpected visit to Naperville on Thursday. And I just so happened to be in the right place at the right time.
My dad, Corbett McCormick, ran into West at Pepe's Mexican Restaurant, 1270 E. Chicago Ave. My dad said West told him he'd befriended a homeless man in California and was bringing the man for treatment at a rehab facility in Naperville. Afterward, he went to Pepe's Mexican Restaurant because he loves Pepe's food.
When I arrived at Pepe's, West was pacing around the restaurant in his red "Make America Great Again" hat for about 10 minutes while on the phone, then he made his way outside while still on the phone. I spoke with his manager about doing an interview. By the time we got outside, there was a flock of 15 people wanting to take pictures with West, but it was clear that he was ready to go. West stayed on his phone, but he was more than willing to allow people to take selfies with him. The entire experience was a strange mixture of an everyday restaurant scene combined with the blinding light of a rap superstar.
I approached West for an interview, and I think he thought I wanted a selfie, but when I asked for his thoughts on the upcoming midterm elections, he looked to his manager for help. I then changed my question to see if I could get his thoughts on the need for younger people to participate in elections.
"Young people should vote," West said with a big thumbs up.
Despite West's radical statements about abolishing the 13th Amendment last week in the Oval Office, on Thursday afternoon West was much like an everyday customer with a much larger entourage. But the experience was strangely normal. Overall, Kanye West seemed more like you and me than I ever would have imagined.

About the Writer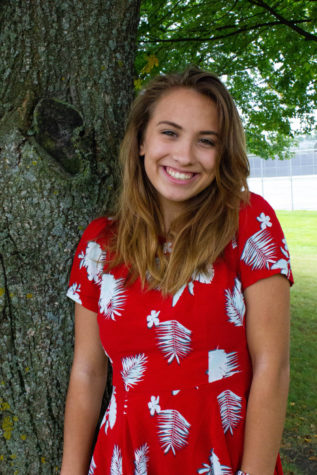 Lily McCormick, Staff Writer
What's up, I'm Lily, I'm 16 and I only sort of know how to read but I'm a Junior at Naperville North and this is my first year doing photography...