Bridging the Gap program aims to smooth transitions into high school
In the game of life, the playing field is not always level. Among different racial groups, those considered minorities start at a disadvantage, lacking opportunities others find with ease. Students that fall under this umbrella often don't have the same educational resources at their disposal.
Bridging the Gap is a program that aims to minimize this difference by pairing minority students with high school mentors who provide insight into school expectations and dependable relationships. The program connects future freshmen from Washington and Jefferson Junior High Schools to a network of experiences, giving each student the same chance for a smooth transition to high school. This year is the club's first official year, but the group has existed for three years prior. The success and impact of the program led to its first year with proper funding.
Cairo Lawrence, Naperville North senior and Bridging the Gap mentor, credits her personal school experiences as motivation to contribute. When she feels the need to prove herself because of racial stereotypes, it reminds her to inspire others to push themselves.
"I'd always been in honors classes and a high-achieving student but there were certain moments where I felt like because I am the ethnicity that I am, people were telling me to maybe lower my work load or to take easier classes," Lawrence said.  
Jacquelyn Fabian, a sponsor of Bridging the Gap, has seen incredibly positive growth through the program. Leaders are responsible for highlighting positivity at NNHS while keeping expectations realistic. The group opens new experiences, especially ways for students to embrace their culture.
"We want them to feel like they have a place here at North and we want our mentors to show them all the great things culturally that we have here," Fabian said.
During these experiences, the mentors form positive bonds with their mentees, offering guidance along the way. Grecia Estrada, NNHS junior, loves seeing the kids grow more comfortable through this relationship.
"They learn how to build better relationships and friendships and then they get more comfortable with the school," Estrada said.
Considering the rough patches NNHS has recently faced, Fabian feels these relationships are that much more important. For the leaders, sharing their experiences reminds them how much they have enjoyed their high school years. Mentors and teachers alike are excited to see how the program grows in future years.
"It's beneficial for me to be able to talk to these kids and tell them to shoot above and beyond, take on what you think you can take on because freshman year high school is scary but… if you're ready to challenge yourself, jump into water that's a little bit scary," Lawrence said.

About the Writer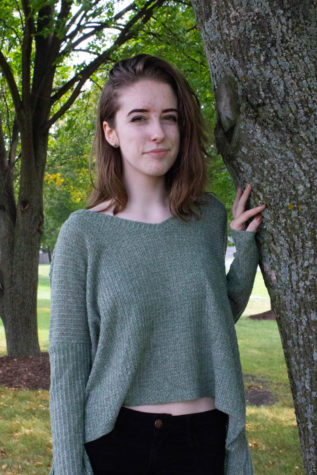 Robyn Pease, Multimedia Producer
Robyn is a senior at Naperville North returning for her second year on The North Star and her first year as the Multimedia Producer. She is looking forward to building her own skills as well as working with the staff to produce photos and videos. When she's not filming, she loves to play the ukulele and drums and investigate all those conspiracy theories.