All Hallows Eve is back this weekend at Naper Settlement
Naper Settlement will transform from a history museum to a living nightmare at the annual Halloween event, All Hallows Eve, this Friday and Saturday, Oct. 20 and 21.
Spanning over 12 acres, the monsters will come back from the dead from 6:30 p.m. to 10:00 p.m. The event is family-oriented, with both mildly creepy stories and terrifying jump-scares.
All Hallows Eve sets itself apart from typical haunted houses by providing over a dozen individual attractions, set in ominous buildings decorated with cobwebs. Recurring haunts include Frankenstein's Laboratory, Zombie Maze, Victorian Insane Asylum, and Salem Witch Trials, among others, according to Special Events Coordinator Adison Glick. Meanwhile, magicians perform mesmerizing outdoor spectacles between the smells of kettle corn and donuts. The different actors and actresses from this menagerie of horrors provide a unique vision for each attraction. Daniel Theleen, who has acted as Edgar Allan Poe the past 12 years, spends the night giving viewers a performance of Poe's most famous stories.
"[I am] able to bring life to that character and life to that story, and have somebody look at me and go, 'I didn't know Poe wrote like that!'" Theleen said.
Naper Settlement has made some exciting additions to the night for 2017. The newest haunted house is named The Peculiar Incident on Shady Street, and is based off of the book by Lindsay Currie. In addition, the "Fort Pain" Dark Art Gallery will be making its debut, along with aerialist performances from The Actors Gymnasium. After a vigorous nine-month training program, the gymnasts are prepared to be stretched to the limit, according to The Actors Gymnasium Special Events Manager Lucy Carapetyan.
"[The act] is an opportunity for normal everyday people to perform skills and feats that seem out of realm of possibilities… there's intrigue and mystery around how the human body does the skills that it does," Carapetyan said.
For those brave enough to face this bone-chilling event, tickets are free for Naper Settlement members, and $20 per person for nonmembers. No outside food, drink, or costumes are allowed. All Hallows Eve is not recommended for those under the age of eight. For more information about ticket purchases and the event, visit the Naper Settlement website.
Leave a Comment
About the Contributor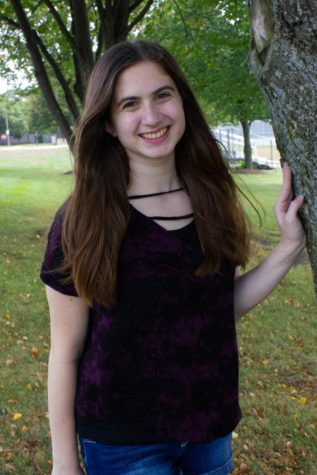 Elise Mulligan, Editor-in-Chief
Elise Mulligan is ready for her senior year at Naperville North. As Editor-in-Chief of The North Star, she has big shoes to fill but is excited to help...