Predictions for the 95th Academy Awards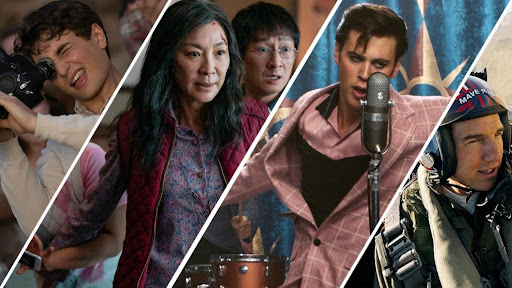 The 95th annual Academy Awards (Oscars) are on  Mar. 12 and with them comes lots of anticipation for which films will take home the big awards. Going into the show, "Everything Everywhere All at Once" is expected to dominate with the film's 11 nominations. Despite this, a question that many may ask is: who will win the four biggest categories including Best Director, Actor and Actress in a Leading Role, and Best Picture? Below is my list of predictions on who I think the big winners for the night will be.
Best Director
Predicted Winner: Steven Spielberg, "The Fabelmans"
Nominees:
Daniel Kwan & Daniel Scheinert, "Everything Everywhere All at Once"

Ruben Östlund, "Triangle of Sadness"

Todd Field, "Tár"

Martin McDonagh, "The Banshees of Inisherin"
Although all of the films featured in this category were very well-directed, I think that Steven Spielberg will take home the award simply because of his profound existing impact on the filmmaking industry. He hasn't won an Oscar specifically for Best Director since "Saving Private Ryan" in 1999. Spielberg, now 76, is approaching the end of his career. It feels appropriate for him to win an Oscar for a film about his upbringing in the film industry. Not only is this a perfect opportunity for Spielberg to claim another Oscar for his collection, but the direction for this film also shows why it has and deserves this level of recognition. Just by viewing the film, I was able to see just how personal the plot of "The Fabelmans" was to Spielberg himself. It was captivating, entertaining, and extremely emotional. The only other possible winner for this category would be Kwan and Scheinert. However, I don't think they will win over Spielberg. "The Fabelmans" will go down as one of Spielberg's top films; it would feel improper not to reward him for such an amazing film. 
Actor in a Leading Role
Predicted Winner: Austin Butler, "Elvis"
Nominees:
Brendan Fraser, "The Whale"

Colin Farrell, "The Banshees of Inisherin"

Paul Mescal, "Aftersun"

Bill Nighy, "Living"
This category in this year's Oscars makes for some tough competition. With talents like Austin Butler, Colin Farrell, and Brendan Fraser in the mix, even the men who won't go home with the trophy should be celebrated and recognized for their outstanding work. However, I believe that Austin Butler will come out on top. Not only was his performance stellar but the movie mainly used Butler's performance as an advertising advantage. People went to see this movie not solely because of the fantastic plot or to see Tom Hanks, but to see how well an up-and-coming actor would portray the acclaimed "King of Rock and Roll." Butler's portrayal of Elvis was amazing and the development his character experiences throughout the film is one of the best that I have ever seen. Many maintain that Brendan Fraser's performance in "The Whale" will win this award. Although I think that the race will be very close, the academy does not always present winners based on actual performance, but infamously tend to choose the victor based on who the audience would rather see win. Because of this tendency,, I think Austin Butler will win best actor. 
Best Actress in a Leading Role
Predicted Winner: Michelle Yeoh, "Everything Everywhere All at Once"
Nominees:
Cate Blanchett, "Tár"

Ana de Armas, "Blonde"

Andrea Riseborough, "To Leslie"

Michelle Williams, "The Fabelmans"
Like every other category, Best Actress in a Leading Role is filled with incredible talent and high stakes. . However, I would be very surprised if anyone but Michelle Yeoh walks away with this award. Yeoh's performance is quite possibly the best in her career to date. With such a complex and unique performance from Yeoh in a character like Evelyn in "Everything Everywhere All at Once," there is no doubt that she should be recognized with an Oscar. With "Everything Everywhere All at Once" being the biggest movie of the year and Yeoh is one of the primary faces of it, her performance has been a huge factor in the film's success. 
Best Picture
Predicted Winner: "Everything Everywhere All at Once"
Nominees
"All Quiet on the Western Front"

"Top Gun: Maverick"

"Elvis"

"The Banshees of Inisherin"

"The Fabelmans"

"Tár"

"Avatar: The Way of Water"

"Women Talking"

"Triangle of Sadness"
Many big films have been released this year with well-known directors and actors. Despite this, I don't think any of the other nominated films even have a chance of beating "Everything Everywhere All at Once." This film pushes the boundaries of filmmaking with its creative exploration and straying away from previous expectations set by Hollywood. It's hard to put into words what this film is about; the film is two hours of madness with emotional twists and turns that keep you guessing what might come next. It features a predominantly- Asian cast featuring Michelle Yeoh, Ke Huy Quan, Stephanie Hsu, and James Hong; if the film does get the Oscar win, it would likely be recognized as a   stride for increased Asian representation in the film industry and recognized the woman-dominated cast as well. On top of all of this, "Everything Everywhere All at Once" has seen huge success considering it has been the biggest film of the year, as it sweeps awards season in almost every category it is nominated for. Undoubtedly, this film will go down as one of the most revolutionary and important films in Hollywood.