EF-0 tornado touches down just miles from NNHS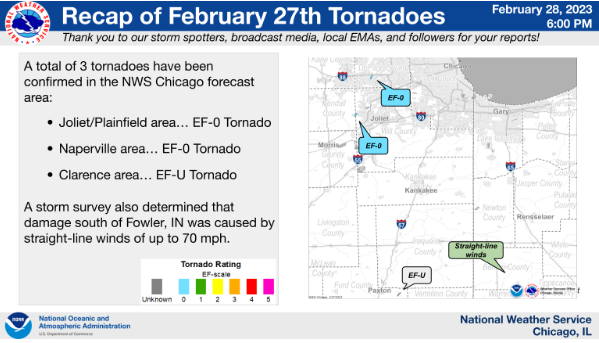 Tornado warnings are almost a rite of passage for Midwestern students, but in the western suburbs, they are rarely accompanied by actual tornados. Things were a little different in February when news broke that a tornado had touched close to Naperville North High school. 
Some students may have wondered if they were ever in imminent danger as they huddled in classrooms. Probably not, one expert said.  
On Feb. 27, an EF-0 tornado touched down just under 1.5 miles from Naperville North High School, according to the National Weather Service (NWS). Though the tornado caused minimal damage to homes and posed little threat to human life, NNHS and surrounding schools were instructed to shelter in place amid the warning. 
The tornado was on the ground from approximately 9:52 a.m until 9:54 a.m. near Herrick Lake Forest Preserve with estimated peak winds reaching 80 mph and stretching to a width of 30 yards. It was tracked heading north for about 1.4 miles before ending just south of the I-88 expressway near Mill and Washington St. A tornado warning was issued to Naperville residents shortly before 10 a.m. and lasted until 10:15 a.m.
Even if the tornado had passed directly across Naperville North school grounds, Mike Bardou, a warning coordination meteorologist for the Chicago office of the National Weather Service- said that a tornado of this kind poses little threat to its inhabitants.
"Eighty mph winds associated with a tornado passing directly over the building would potentially cause cosmetic or superficial type damage as opposed to structural type damage.  This might include damage to trim that might be found where the walls meet the roof and/or removal of a small amount of the membrane that is often used on large buildings (usually NOT resulting in any kind of hole in the roof itself)," Bardou said. 
Although the tornado caused some tree damage, most houses along its path remained unaffected. Evie Kiefer, a junior at North who lives near the Naperville Train Station, was at home when the tornado sirens went off. 
"The train station tornado sirens are more official than a tornado warning on a phone and since [my family] is so close to the station, we took action and went into the basement. I've never heard the sirens outside of the monthly testing the city does, so it was a little bit jarring to hear it in a tornado context," Kiefer said.  
Following the tornado warning, students at North were instructed to relocate to interior rooms within the building without windows. Kim Ibarra, a junior, thought the process was at times unorganized and disorienting.
"We didn't know which rooms to shelter in, so that caused a lot of confusion. My teacher didn't really tell us where to go and the classrooms were getting crowded," Ibarra said. 
You can find a full summary of the tornado and its impact on the NWS-Chicago website.