"All Quiet on the Western Front": Will it win?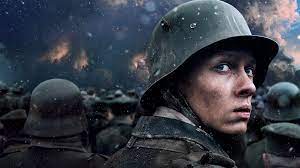 Disclaimer: "All Quiet on the Western Front" is an R-rated film that displays gore, violence and mature themes.
"Modern war is like a game of chess. It is never about an individual soldier. Our only care is for the entirety of the body." – "All Quiet on the Western Front"
Netflix's "All Quiet on the Western Front" is a World War I German film directed by Edward Berger, and based on the novel written by Erich Maria Remarque. Released in Oct. 2022, it has now been nominated for nine Academy Awards, including Best Picture and Best International Feature Film. In my opinion, it's a strong contender to bring home a couple of wins, but the story is one that you have probably heard before. 
The film criticizes war and the dehumanization of soldiers. In a harrowing opening scene, the expendability of soldiers is demonstrated right away. Each deceased soldier's uniform is removed on the battlefield, cleaned of blood and sent to a repair shop to be used again. 17-year-old Paul Bäumer (played by Felix Kammerer), a patriotic German who is eager to fight on the front lines, happens to be the recipient of one such uniform. He quickly realizes that the Western Front is nothing like he expected as he loses his friends to the brutality of war. 
Paul becomes increasingly emaciated and the audience can clearly see the youthfulness drain from his face as the film progresses (hence the nomination for best makeup). However, the film fails to give any information about his life before enlisting, which was a missed opportunity to create a greater connection with his character. The audience ends up learning more about his comrades than the main character. The film could have used a few more minutes of humanity to break up two hours and 23 minutes of war.
As a forewarning, this film is a heavy watch; there are multiple scenes of violence and gore. The vast majority of the story takes place on the battlefield with constant shelling and explosions in the majority of shots with soldiers dropping dead left and right. Accompanying these disturbing scenes is a repetitive, grating score that's characteristic of a horror movie – this movie essentially is one.  
However, the saving grace of the movie is its cinematography and visual effects, which explains the amount of nominations. It was filmed in an ex-Soviet air base using real 100-year-old machine guns for authenticity. In addition, flares were used to create hauntingly beautiful bomb blasts. The visuals are certainly disturbing, but it is apparent that great effort was put into creating them. 
Ultimately, it is clear that the visual effects and power of the film, partnered with the sheer amount of nominations it has received, make it a strong contender for an Oscars win. However, the story is not especially unique, and you can likely afford to miss its intense psychological impact.