NNHS administration prohibits eating in small cafeteria locker bays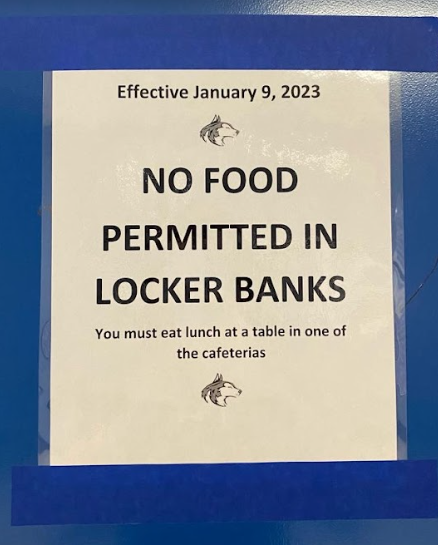 On Jan. 9th, Naperville North High School administration prohibited eating in the small cafeteria's "locker bays." Posters notifying students and staff of the new protocol were posted on the lockers.
Previously, as an alternative to sitting in the designated lunch areas (large cafeteria, small cafeteria and the Learning Commons), students ate and socialized in the locker bays. However, bad behavior and left-behind trash prompted the change. NNHS Principal Stephanie Posey expresses that action was needed to address these issues. 
"We have been consistently over the last few months requesting and asking students to not leave messes behind, and to use the trash receptacles appropriately and just basically take care of the area… And then the other reason is we've had an increase in misbehavior in the locker bays," Posey said. 
North campus supervisor Gary Galway notes that several physical confrontations occurred prior to winter break in the area. In addition, Galway has had to enforce the measures since the change was made. 
"I'm telling off the same people. I think that [this rule] is going to last until the end of the year for sure," Galway said.   
The announcement has altered some students' seating patterns. Freshman Emily Lawson frequently spent her lunch period in the locker bays last semester.
"It was just me and a few other friends, and we weren't going to take a whole table to ourselves, so we just sat between the lockers. This semester I had more friends to sit with, but I think it'll affect people who don't have that," Lawson said.
Posey said improved behavior could reverse the restriction.
"We want to reshape some behavior… We took that privilege away, hopefully we can gradually go back to that as behavior allows," Posey said.