A non-spoilers-free review of Jordan Peele's feature films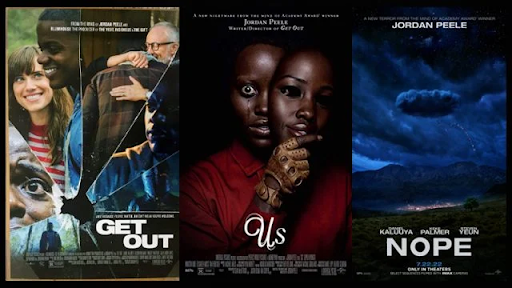 In 2017, Jordan Peele made his directorial debut with his film"Get Out." The movie stars Daniel Kaluuya and Allison Williams as they play a couple visiting their in-laws for a short trip. While there, Kaluuya's character experiences mysterious interactions with his girlfriend's family.  
After the smashing success of "Get Out," Peele later released another horror mystery film, "Us," starring Lupita Nyong'o in 2019. The slasher film follows a family and their alternate selves, who eventually murder them. While scarier than Peele's previous film, it still contains various plot twists; Peele's specialty. 
Peele released his third feature film, "Nope," this past summer. This film once again stars Daniel Kaluuya, now joined by Keke Palmer, who plays a brother and sister duo. After a series of unfortunate financial events, the siblings go on a quest to capture a UFO on camera. 
I heard high praise for "Get Out" when it was first released, which made me excited to watch the film and see if it was worthy of its recognition. It far surpassed my expectations. Given my familiarity with Jordan Peele's comedic background, the subject of the film was not only entertaining but surprising. "Get Out's" underlying political message on the realities of being a Black man in America combined with its thrilling plot works to create a great film.
After my experience with "Get Out," I had high expectations for "Us." While the opening 20 minutes excited me for what was to come, it quickly became repetitive, and quite frankly, boring. I eagerly watched "Get Out" in one sitting, but "Us" was much less captivating. The film's ultimate downfall was its forceful attempt to exceed the precedent set by his legendary first film. From its golden scissors and bunny rabbits, I felt like it was a dull, wannabe horror masterpiece. 
Jordan Peele's most recent release, "Nope," is his best work yet. It provides a thrilling two-hour experience that unfolded like nothing I'd ever seen. The film combined horror, comedy, and drama in the perfect way. That being said, what really set this film apart was the initiative it took to depart from other Hollywood films. Movies today tend to be artificial arthouse films or below-average remakes, whereas "Nope" pushes those boundaries, inspiring a new wave of filmmaking."Nope" created a type of movie that takes leaps with its visuals and plot. Towards the end of the film, "Nope" features a UFO killing its prey, and an alien unfolding itself and mutating into another shape. I was mesmerized. Peele took a leap with these visuals along with the nighttime lighting. "Nope" captures the sky and other long-distance subjects in the dark, which is an element that I think is underappreciated in this film.
The best part of this film, though, is the seamless way the plot unfolds. From the intriguing opening to the final end credits, it kept me guessing what would happen next. The plot's turns were purposeful, deepening the plot as it went. Overall, I think "Nope" is Jordan Peele's best film yet, hopefully initiating a new type of film that takes leaps and creates an interesting story. 
Jordan Peele has already established himself as one of the best horror directors of our time. After creating his first movie, "Get Out," he found initial success through its originality. But, "Us" felt less original as it seemed like Peele was pushing toward the standards of the audience, and not letting his own imagination roam. When "Nope" was released, a new type of Jordan Peele film emerged: limitless, original and compelling.