Huskie boys soccer loses a close game against Morton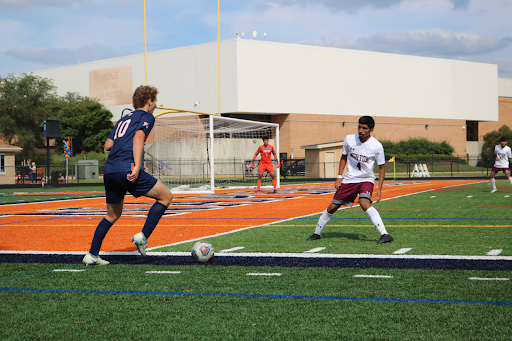 The Naperville North High School varsity boys soccer team lost in a close match against Berwyn-Cicero Morton High School on Saturday, Aug. 27. 
The Huskies (1-2) lost to the Mustangs (2-1) with a final score of 1-0. 
The Huskies ended the first half with a score of 0-0. Both teams struggled with missed scoring opportunities and yellow cards from referees. Senior Ryan Konrad notes that the team is still trying to adapt to finding its team dynamic with new players. 
"I think, definitely, we're still getting in our groove, [it's] the start of the season, we still have a lot to work on," Konrad said. 
As the second half began, the Huskies came out strong, hoping to break the tie. However, Morton scored the first goal midway through the second half, and the Huskies were unable to make a comeback. Despite the loss, senior Alex Barger explains that the teamwork improved as the game progressed. 
"During the second half we saw a lot of grit in the team, which is really nice to see," Barger said.
The game was a frustrating hit for the Huskies after losing to Morton last year in the super sectionals playoff game.  Despite this, head coach Jim Konrad is hopeful for the rest of the season. 
"We're gonna get better, I hope we get to play them again at the end of the year," Konrad said. 
The Huskies will play their next game in the "Best of the West" tournament at Naperville North against Oswego. The game is scheduled to begin at 5 P.M. on Aug. 30.