Review: The World's a Little Blurry's raw style has a powerful impact missing from other musical artist documentaries
When she was just 13 years old, artist Billie Eilish wrote her first song, Ocean Eyes. When she turned 14, she uploaded it to Soundcloud where it went viral in 2016. Four years later, she and her brother returned to their modest Highland Park, California home with six Grammys.  
Released onto Apple TV+ and in theaters on Feb. 26, The World's a Little Blurry tells the deeply personal story of how Eilish rose to fame at such a young age along with the struggles she faced along the way. The film covers Eilish's mental health journey, family life and creative process in making her 2019 album WHEN WE FALL ASLEEP, WHERE DO WE GO? with the help of her brother and producer, Finneas O'Connell. Doing extremely well in the box office, with a 98% on Rotten Tomatoes, this documentary's story-telling was vulnerable and sincere, making its length absolutely worth the watch.
I initially was not very interested in watching this documentary due to its length and the fact that I had never been a huge fan of Billie Eilish's music. Ultimately, I decided that I had nothing better to do, so I may as well watch the first 20 minutes. The next thing I knew, those 20 minutes turned into the whole two and half hours and I then proceeded to listen to both of her albums twice and some more the next day. 
I've seen a couple of other documentaries about musical artists including Taylor Swift's Miss Americana (2020) and Shawn Mendes' In Wonder (2020). Both of these films, which can be found on Netflix, took on the general documentary approach and style, including scenes of concerts and recording processes, then switching to shots of interviews with certain individuals. They also add in dramatization to appeal to more audiences. The World's a Little Blurry, directed by R.J. Cutler, swayed away from this and instead took on a lightly-edited home video type of approach. I thought that this was extremely effective in allowing the audience to be a part of the story instead of solely watching it happen. I actually felt like I was in the room with Eilish and O'Connell as they were writing masterpieces of music. Had I just seen perfectly edited and polished shots of them and distracting dramatization, I would not have experienced the same effect. 
I believe that one reason behind Eilish's success is due to her relatable music and refreshing charisma. She finds a way to be relatable to the average teenager even though that's miles away from her reality. Her songs generally take on a dark and somber tone, and discuss heavy topics such as depression and anxiety. Her fans feel connected to her because they understand what she's writing about and have experienced some of it themselves. They like her music because it's raw and unfiltered, same as her documentary. Along with that, the documentary showcased her charisma and sense of humor, one memorable quote being "they're not my fans, they're like part of me." Her personality was not what I expected, due to her sullen and moody public persona, and it was very interesting to see who she actually is as a person instead of a performer. 
Though many scenes went in-depth with some dark topics when discussing the meaning behind Eilish's lyrics, there were also scenes that had me laughing out loud and smiling. One of these moments is when Eilish's mother, Maggie Baird, admits that she considered sending a twelve-year-old Eilish to a counselor for being unhealthily love sick for Justin Bieber. One of the most iconic scenes of the documentary was when Eilish finally met Bieber and simply cried in his arms. The humor did an amazing job of balancing out the solemn tone throughout the film which made it much more engaging. 
Overall, I would highly recommend this documentary, even if you're not too fond of Billie Eilish. It is rated R due to language and dark topics but I would say that a reasonable age for viewing is 14+. This film will give you a new appreciation for Billie Eilish and leave a long-lasting impression on the future of musical artist documentaries. 
About the Writer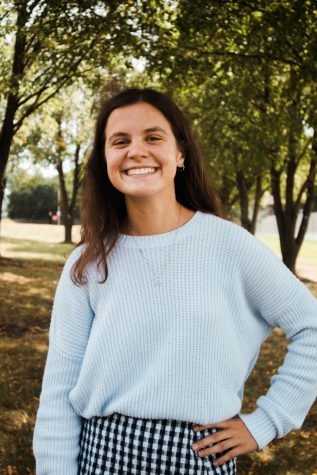 Elissa Eaton, Features Editor
Elissa is a senior at North and is excited for her second year on The North Star. This year, Elissa will be taking on the role as the Features Editor....