D203 announces increased in-person instruction starting after spring break
Naperville North High School students can return to school five days a week in a block schedule starting April 7, District 203 officials said. 
After offering a hybrid schedule since late January, students will have the option to increase their time in the classroom from two days to five due to lowering case numbers and new Illinois State Board of Education guidelines. Interim Principal Jay Wachtel is excited to have more students back in the building and thinks it's a positive step forward. 
"Every move we can take to get closer to getting back to normal is great," Wachtel said. 
Superintendent Dan Bridges announced the change in a video posted by the district Thursday. This announcement followed the posting of The Illinois State Board of Education's updated guidelines on March 9 that loosened restrictions on capacity and space between students. 
"Capacity limits for in-person learning…are now determined by space in the building to accommodate social distancing, not limited to 50," Bridges said. "Social distance for in-person learning, according to ISBE, is now defined as three to six feet."  
These two changes allow for more students in the building at a time. While middle school is returning to their full, daily schedule, high school will remain in the block schedule for the rest of the year. Wachtel explained that this is due to a spacing issue in high school buildings across the district.    
"If a student takes off their masks to eat, they have to be six feet away from everyone else. That makes it really difficult to offer lunch. That's why we are sticking to the block schedule for now, it's primarily because of lunch," Wachtel said.

Three feet does not qualify as social distancing while masks are removed, as they would be during lunch periods. However, the district plans to return to a full, eight-period-schedule day at the high school level at the beginning of next school year. 
This year, the district will continue to offer an online option for students. Students will also have the opportunity to switch from online to in-person, or vice versa. While lessons will continue to be live-streamed on Zoom, Wachtel explained that in-person students are expected to be in-person everyday unless they are ill.    
"The intention is for students to attend school all five days, not just pick and choose when they want to be in person…Either you go in-person every day or you should stay home every day," Wachtel said. 
Students can expect to attend school Monday through Friday from 7:35 a.m. to 1:30 p.m. and remain in the block schedule. However, half-day blocks will no longer alternate Tuesday/Thursday to Wednesday/Friday. Instead, periods 1 through 4 and 5 through 8 will alternate each school day regardless of the day of week. 
More information will be provided at the District 203 board meeting on Monday, March 15. You can tune in to the livestream at 7 P.M., found on the district website. 
About the Contributor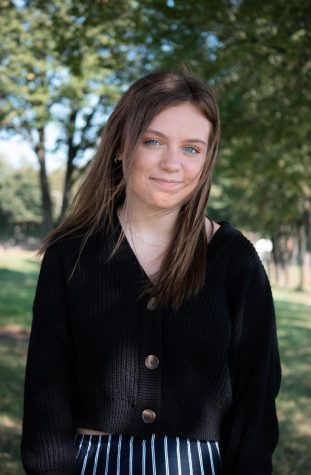 Tessa Devine, Managing Editor
Tessa Devine is a senior at Naperville North and is beyond honored to be this year's Managing Editor. Tessa loves feeling connected  with her school...