False ALICE alarm causes confusion and fear among students, staff
An automated message designed to warn of an active shooter accidentally played throughout Naperville North Friday morning. Minutes later, a second PA message informed frightened students and staff the recording had been enabled accidentally. 
Some classrooms barricaded themselves while teachers evacuated other classes from the building. 
Senior Alicia Silva said that her classroom in the Communication Arts hallway was filled with anxiety during the false lockdown.
"During the incident I was nervous," Silva said. "With all that has gone on in the past year, the lockdown was one more thing we could not control."
ALICE is a training program designed to create a more active response in schools to mitigate loss of life in the event of an "active shooter."The shift from traditional "shelter-in-place" procedures came in response to increased casualty rates in school shootings, namely in the aftermath of Parkland, Florida in 2018 where 17 students and staff members were killed. Much of North's staff and students have practiced ALICE procedures through drills, preparing them for the actions they had to take Friday.
"My teacher responded by starting the training we had from ALICE. We barricaded the door and had items in our hands ready to throw," Silva said. "While we did not know what was going on, our teacher was calm and collected while trying to keep us safe."
Junior Rosana Liang was interrupted by the alarm while taking a math quiz and had to be ushered into another room because the lock on her classroom door wasn't working properly. Liang said the school's response to the false alarm was at once comforting and unsettling.
"I think as I was just standing there in the dark though I was realizing how strange and almost dystopian-like it is that we view these drills as just another part of our daily lives," Liang said. "..schools are the ones most at risk for these shootings and we're basically trained to turn our classroom into a war zone. They tell us to barricade the doors, to be ready to fight, to use the element of surprise to our best advantage."
Students on Zoom were faced with similar feelings of confusion and apprehension, and having half of the class online added another layer of complexity to the situation. Senior Mia Fitzgerald was attending her marketing class on Zoom when the lockdown was called, sending her class and her own emotions into turmoil. 
"I was freaked out because I didn't know if it was a drill or not and neither did my teacher," Fitzgerald said. "If it was an actual emergency, we would potentially be watching the people in our room get injured. I was also scared someone would unmute and make a noise that could have made the people in the room in danger."
As classes started up again, many students and teachers were left unsettled for the remainder of the day. Though there was no immediate threat to the school, Naperville North had to face a nightmare-like situation today, causing many to reflect on the reality of school shootings in the country.
"I just began to realize how messed up it was that kids in America have to question whether they're going to live for another day… when they go to school," Liang said.
About the Writer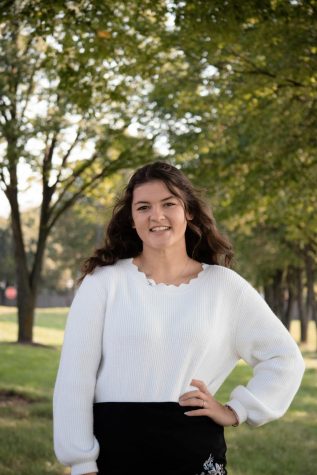 Megan Cablk, Editor-in-Chief
Megan is a senior at Naperville North and is thrilled for her third and final year at The North Star. As Editor-in-Chief, she is excited to expand the...