District 203: COVID-19 is affecting in-person teaching
Faith Kwong, Special Projects Managing Editor
November 20, 2020
District 203 is facing rising COVID-19 staff infection rates that are complicating classroom teaching.
Reflecting Dupage County's upward trend in cases, 31 Naperville 203 staff are quarantining and 16 have tested positive for COVID-19 as of Nov. 9, according to the District 203 COVID-19 dashboard. 
"We have seen an increase in the number of people who cannot report to work for a COVID reason," Assistant Superintendent for Student Services Christine Igoe said at the meeting. "We have had to implement strategic adaptive pauses on some in-person instruction due to staff absences in a few schools."
Igoe said 149 staff members in total couldn't report to school Monday. 
Superintendent Dan Bridges announced in a message to families on Nov. 11 that students won't return to school before Jan. 25, citing, in part, locally surging COVID-19 numbers among youth and staff members. The surge has caused staffing challenges in some classrooms, though quarantined teachers, in some cases, are working from home.
"We have had cases where we have students in school who expect to have their teachers, and when those teachers who are unable to report to work, there we do have issues," Bob Ross, Chief Operating Officer, said. 
As announced Nov. 11, targeted and specialized students will continue in-person learning, while the rest of students will remain in enhanced eLearning until at least Jan. 25.
"The rising number of staff that are unable to report to work due to COVID is a concern," Igoe said. 
The district announced last week that it would increase the flexibility for staff to work at home, but some students, stuck at home themselves, have long advocated for teachers to be allowed to work safely from home. 
Over a month ago, staff members who could not teach in-person had to take an unpaid leave of absence. Junior Isabel Garcia at North and senior Gabi Kwiecien at Naperville Central started separate petitions to District 203 after finding out that their teachers would no longer teach them virtually. The students also had concerns in regards to the quality of their education. 
"If we have substitutes, we're stepping back from the learning process and we aren't learning to the best of our ability," Kwiecien said. 
Prior to the district's decision to allow teachers to teach remotely, Mike Jarvis, a science teacher at Naperville Central High School, voiced his concerns regarding the mandate that teachers be in the building while teaching. 
"There's nothing that could've been done by the teachers that couldn't have been done at home, with the exception of the teachers who meet students in-person," Jarvis said. "All the meetings teachers are having with each other, everything could've been done online."
After finding out that Jarvis would take a leave of absence if returning to school became mandatory for teachers, Kwiecien began a petition for District 203 educators to allow teachers to work from home if they have underlying health conditions. Jarvis was inspired to find that one of his students had started a petition to allow teachers to work completely remotely. 
"I was honored, in a lot of ways, that she would go out of her way to start this petition, and I was glad that it wasn't just for me but respecting that there are many other teachers who have situations worse than mine, even, that need some support," Jarvis said. 
The district is facing a slew of difficult decisions in the coming weeks as COVID infections surge — and staff infection rates are just one of the many challenges the district will need to address.
"In-person instruction is critical to our students, and we want to provide it to more students as soon as possible," Bridges said Monday. 
About the Contributor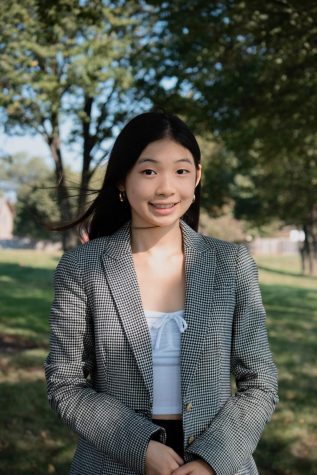 Faith Kwong, Special Projects Editor
Faith Kwong is a junior at Naperville North and is thrilled to start out her second year at The North Star as Special Projects Editor. In addition to designing...