Food For Thought: Cooking out of your pantry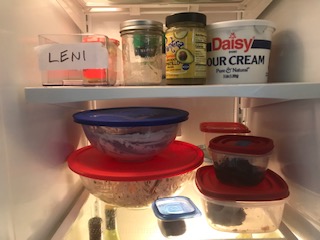 The past few weeks have edged us all closer to a Gordon Ramsay than a Julia Child. With a stay-at-home order in effect and limited supplies at grocery stores, there has never been a better time to bring out your inner chef. So, turn on "Chopped" and break out the measuring cups; here are a few easy meals Annie and Faith cooked up for you that can easily be altered depending on what you have in your pantry.
Annie's Advice
"The Bowl."

I found the original recipe for this in the cookbook "

Run Fast. Eat Slow : Nourishing Recipes For Athletes."

  by Shalane Flanagan and Elyse Kopecky, and it has evolved from there. This recipe is similar to a buddha bowl, just easier to make with limited ingredients. Start with a grain base (rice, quinoa, farro, anything you have on hand) and top it with some canned beans, any assortment of veggies (think wilted kale or spinach, roasted sweet potatoes, some cooked carrots, anything roasted) and some form of protein on top (chicken is great and a fried egg works, too). Great toppings for this include grated cheese, salsa, sour cream or hummus. And if you have any leftover ingredients, you can always throw them in a pan the next morning to heat them up and pour a beaten egg or two over the top to make a killer scrambler. My personal favorite combination is quinoa, kale and sweet potatoes.

Breakfast for dinner — always a classic.

Everyone has that one box of pancake mix that has been stuck in the back of their cupboard for months. Now is the time to bring it out! Pancakes are a quick, easy meal that everyone loves (seriously, who doesn't love pancakes?). If you feel like jazzing yours up a little, feel free to throw in some chocolate chips, blueberries, sliced bananas or walnuts. Serve them alongside some scrambled eggs and you're all set. Alternatively, you could always whip up some french toast if that is more your speed. 

Use up those beans!

A great way to make use of those canned beans in your pantry is by layering them on the bottom of a casserole pan (feel free to throw some corn in there too), then topping them with something to give it a little spice (salsa, enchilada sauce or green chillies will all work just fine), a layer of cheddar cheese and finally a layer of boxed corn muffin mix prepared based off of instructions on the box. Pop it in the oven and bake until the cornbread is cooked and the interior is heated through. This is a great one-pan meal that will feed the whole family.  

High class canned soup.

Chances are you have at least one can of soup somewhere in your pantry. By itself it can be pretty boring; turn it into a meal you'll be excited to eat by throwing in some veggies and a grain or pasta. My favorite combination is tomato soup with frozen corn and quinoa or rice, but unconventional additions like tortellini taste great too. Serve this alongside a salad or with a slice of bread and butter, and you're all set.

The best way to get rid of leftovers? Put them on a salad!

Start with a base of your favorite lettuce and build from there. Top your salad with any assortment of the following: leftover veggies in your fridge, a hard boiled egg, chicken, canned beans (especially garbanzo beans) and leftover grains you might have. Pro tip: if you are out of salad dressing, a spoonful of hummus followed by some olive oil and a drizzle of balsamic vinegar will taste just as good, if not better. 
Faith's Favorites 
Pantry pasta.

For a creamy tomato sauce, try combining alfredo and marinara sauce in a pot until heated through. It might sound strange but provides a creamy alternative to your usual spaghetti and meatballs. Mix in your pasta (rigatoni or penne are great options!) and dump it into a baking dish to finish off in the oven — I recommend adding cheese or breadcrumbs. Out of marinara sauce? Throw together a quick and simple Aglio e Olio using just spaghetti, garlic, olive oil and parmesan, served with parsley and a slice of bread. Don't forget to add in some leftover vegetables like frozen peas for a balanced meal. 

Got a sweet tooth?

These

peanut butter cookies

only contain three ingredients and are a great alternative to other processed snacks; simply combine a cup of peanut butter, a cup of white sugar and an egg. Mix the batter and form it into balls on a lined baking tray. Grab a fork and press into the dough to create a criss cross pattern, and sprinkle some sugar on top. The last step is to simply bake for six to eight minutes in a 350 degree oven just until the bottom of the cookies are lightly brown. Let the cookies cool and enjoy! 

You probably have some instant ramen sitting in your pantry

. While it is a simple, quick meal, it's easy to upgrade. Start by boiling your water to cook the noodles. Quick tip: if you can, try to boil water separately in a kettle or another pot. This will be the water in which you pour the soup base, so the excess noodle starch doesn't end up in your soup, making your meal just a tad bit healthier! While your noodles are cooking, soft boil an egg to top off your ramen. If available, cook off some protein to add, whether it be braised pork, naruto fish cakes or even shrimp tempura if you're feeling ambitious. Chop up some fresh green onion and nori if you have it, just for a lil' garnish. You can always throw in other vegetables of your choosing, like corn, mushrooms or boiled bok choy. When you're ready, drain out the liquid and add in your freshly boiled water, vegetable packet and seasoning packet (to your liking), before topping it off with your eggs, sliced in half, and other ingredients. Make it look pretty! For a spicy twist, top it all off with hot chili oil or sriracha. While it may not be the most authentic ramen, it is certainly tastier and more impressive than the usual cup of noodles.  

Who doesn't like soup?

The possibilities are endless. Start out by adding a drizzle of olive oil and whatever canned or fresh vegetables you have on hand to a pot. Whether it be corn, canned tomatoes or tomato sauce, onions, beans, peas, cut-up carrots, potatoes, celery, leeks, squash or zucchini, dump it into the pot (you may have to cook certain vegetables like carrots for longer, so throw them in first) and season with italian seasoning and your favorite herbs. Don't forget the salt and pepper! Once the vegetables have softened, add in your soup base. This could be vegetable, chicken or beef stock. Cover the pot and simmer, and you have an everything-vegetable soup! For a more filling meal, serve with cooked pasta; or for added protein, ground turkey or beef is a great option. Once everything is cooked, season with more salt and pepper to taste. 
If you need any additional inspiration, try checking out New York Times Cooking or America's Test Kitchen; both have been putting out great ideas on how to cook with limited resources.