2019 Orchesis show "Lights, Camera, Action!" hits the stage
The Orchesis season at Naperville North is coming to a peak as the students and sponsors prepare for their upcoming showcase.
Glittery costumes and dances will dazzle the stage when the curtains open on Feb, 7, 8 and 9 at 7 p.m. The theme for the showcase is "Lights, Camera, Action!," and about 10 dances in the show will have songs from movie soundtracks including "The Great Gatsby" and "Titanic."
Orchesis is a no-cut dance club at NNHS, with student-choreographed and professionally-choreographed dances being practiced throughout the year in preparation for their annual showcase. Based on placement tryouts at the beginning of the year, dancers are placed in one of three levels — beginner, intermediate, or advanced — depending on what is most appropriate for their skill level.
For this specific show, Orchesis President Caroline Byrne explained that her and the other officers (students who are in charge of organization and leadership in the club) began choreographing the closing dance and their individual dances in August, with official practice beginning in September. This year there are 95 members dancing in the showcase and over 20 dances that will be performed.
There are multiple styles of dance that will be performed at the showcase, such as hip-hop, tap, contemporary, lyrical, jazz and couples dances involving senior boys, fondly referred to by members as 'the orchebros,' with a majority of the dances choreographed by Naperville North students.
Byrne expressed excitement for this part of Orchesis.
"I think it's cool that our dancers get to showcase their talents and incorporate their own style into their dancing, because so many people can interpret a song or movement in so many different ways and I just think that's so neat," Byrne said.
Vice President Maddie Stuart said that her favorite part about Orchesis is the show itself. She said that show week, the week before the show itself, is stressful, as practice can go as late as 9 p.m. and the show is run through multiple times. However, she looks forward to the atmosphere of the shows themselves.
"Being able to actually then see the people sitting in the audience while we're on stage dancing is the coolest feeling in the world, so I think when that curtain first opens and we look out, that is my favorite part of Orchesis," Stuart said.
Byrne's favorite part about Orchesis is also show week, as members get to form bonds with many different people.
"As exhausting and stressful as [show week] is, seeing all the work that we've put in come together and look so awesome on stage is just so rewarding…since we only have this one weekend, it's more fun when it's a super packed crowd because then I know that what we did was worth it, and that all of these people really do love what we do," Byrne said.
The showcase is about two hours long with an intermission halfway through. Tickets can be purchased from the NNHS Fine Arts website and costs $5 for students and seniors and $8 for adults.

About the Writer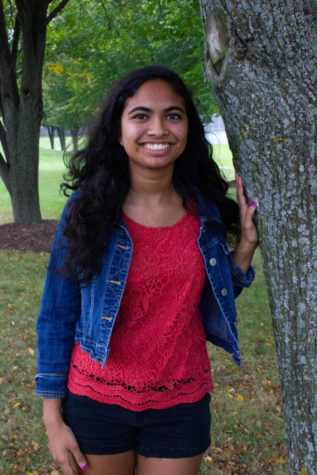 Tia Arcot, Staff Writer
Tia Arcot is a senior at Naperville North, and is excited to join the North Star this year. She loves to write, and currently serves as the PR manager...