Protesters gather in Downtown Naperville to support special counsel Robert Mueller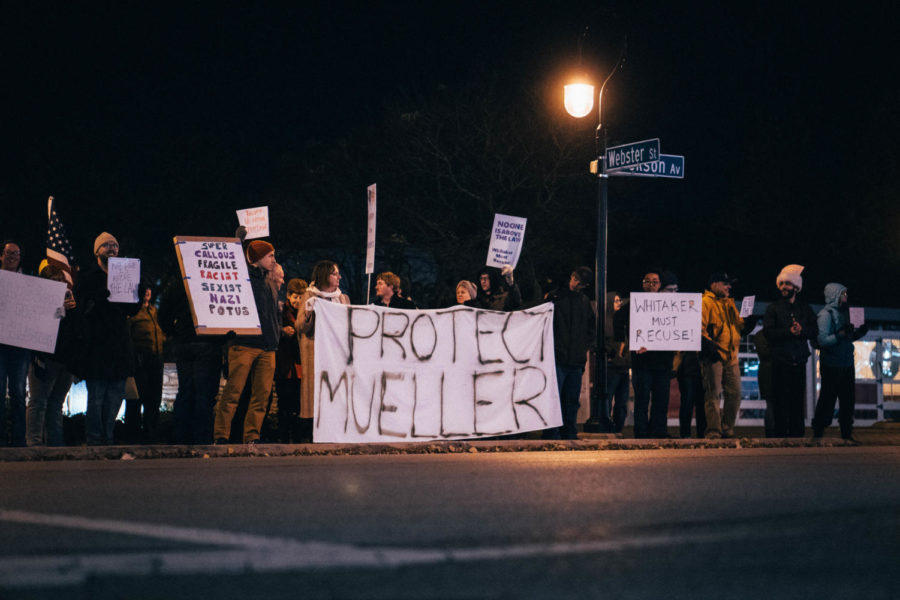 A crowd that appeared to approach over 100 people congregated in Downtown Naperville Thursday night to protest the appointment of Matthew Whitaker as the acting head of the Justice Department.

The rally started at 5:00 p.m. at the Dandelion Fountain across from Nichols Library. Sean Casten, the Democratic member-elect for Illinois' 6th Congressional District, spoke to the crowd around 5:20 p.m. to express his support for the protest.
"The good news is come January 20, the adults are back in charge. The bad news is it ain't January 20," Casten said.
Protesters Linda Cusack and Erin Micklo came to the rally to express their concern for President Donald Trump's recent actions regarding the Mueller investigation. They said that if Trump is innocent in the 2016 Russian investigation, he shouldn't mind having an investigation done on his actions, and believe that he should be held accountable for them.
"The president is manipulating the system so that the truth stays buried," Micklo said.
Former Attorney General Jeff Sessions resigned from his post on Wednesday at the request of the president. Under the Vacancies Act of 1998, Trump appointed Whitaker, former chief of staff for Sessions, giving oversight of Mueller's investigation from Deputy Attorney General Rod Rosenstein to him. Protesters are concerned that Whitaker would interfere with the investigation of Russian interference in the 2016 election, specifically on connections between members of the Trump campaign and the Russian government.
Protesters carried bright signs that read "NO ONE IS ABOVE THE LAW" and "PROTECT MUELLER…"
Arizona Sen. Jeff Flake tweeted Thursday that he and Delaware Sen. Chris Coons would introduce a bill this week to protect Mueller's investigation. The act is called the Special Counsel Independence and Integrity Act and was passed out of the Senate Judiciary Committee earlier this year.   
Casten stressed that congressmen don't start their new term until January 20, and that, in the meantime, residents should pressure incumbents to pass the bill. The Act would protect Mueller, but also provide an appeals process if he were fired without just cause.
"You all need to put pressure on those who are currently in The House. That [bill] can be passed right now and at the end of the day sunlight's the best disinfectant. If nobody's guilty no one's got a problem with sunlight."  
Casten defeated six-term incumbent, Peter Roskam by over 16,000 votes in the recent midterm elections. An important topic during the race was Trump, with Roskam attempting to distance himself from the president and still appeal to Trump supporters, while Casten repeatedly denounced Trump's character and leadership as president.
Lori Shepard came to the rally to hear Casten speak and to protest the appointment of Matthew Whitaker, and supports passing legislation to protect Mueller. She said the first thing she saw Thursday morning was an email from MoveitOn.org about the rally. According to the political action organization, there were over 900 protests planned across the U.S. for Thursday.
¨I think this is a really critical thing for us to be doing to protect our democracy. We stand on the cusp of a constitutional crisis and the president is putting himself above the law," Shepard said.
In a column Whitaker wrote for CNN in 2017, he claimed that any probe into Trump's involvement in the Russian scandal would go too far by looking into the President's finances.
"It does not take a lawyer or even a former federal prosecutor like myself to conclude that investigating Donald Trump's finances or his family's finances falls completely outside of the realm of his 2016 campaign and allegations that the campaign coordinated with the Russian government or anyone else," Whitaker wrote.
As acting attorney general, Whitaker dictates the boundaries and budget of the special counsel, meaning that he has the authority to stop the investigation of a certain subject or reduce the team's resources and staff. In addition, according to Justice Department regulations for special counsels (that are included in Mueller's appointment letter), Whitaker would be at liberty to ask Mueller for an explanation of "any investigative or prosecutorial step," and could decide that it should not be taken, meaning something like a subpoena or indictment could be stopped. If this happens, then the attorney general would be required to notify Congress. A special counsel can be removed by the attorney general for "misconduct, dereliction of duty, incapacity, conflict of interest, or for other good cause, including violation of Departmental policies."
Sessions had previously recused himself from any investigation involving the Trump campaign, which the president would later publicly attack him for, leaving Rosenstein to oversee the special counsel's investigation.
Rally attendees said they were concerned about accountability and truth in the federal government, staying out in cold 41 degree temperatures for several hours to support their cause.
¨It's empowering. It feels great to see so many people willing to come out in the cold to stand up for their rights. And, as the chant goes, ´this is what democracy looks like,'" Shepard said.