Student Technology Advisory Committee proposed for District 203 high schools
On Oct. 16, the Naperville 203 Information Technology Department (IT203) invited all District 203 high school students to apply for the newly created Student Technology Advisory Committee (STAC). The committees would help direct the future use of technology at Naperville North and throughout District 203.
IT203 is now accepting applications from high school students of any grade at Naperville North and Naperville Central High School. More information will be released once STAC membership is announced. Students willing to participate in this committee must fill out the email application by Friday Nov. 2, 2018.
Creating the STACs allow students to directly participate in fulfilling the IT mission of integrating technology in the classroom.
"The purpose of a STAC is to provide students with a voice or representation for guidance and feedback on the use of current technology, evaluation of new technology as well as assistance in cybersecurity areas," the email said.
Next year, IT203 is planning to replace all current Chromebooks with a different model. One job of the STACs will be to test and help the IT Infrastructure Team decide on the replacement model. According to Joe Jaruseski, Director of IT Infrastructure for District 203, the student-led committee will decide what necessary additions the next generation of Chromebooks will need, along with feedback on likes and dislikes of the current model. Currently, there are about two to three Chromebook models from four different manufacturers that may be reviewed.
"That math works out to be as many as twelve different models, each needing a student 'test drive' and feedback," Jaruseski said.
Another purpose of the STACs is to understand and prevent virus attacks on computers. Cybersecurity is a concern that STACs will try to educate its members on.
"STACs will assist IT203 with very tightly controlled cybersecurity activities that will open up and explore real viruses and malware that we receive on our network, writing 'cyber-pathology' reports to characterize level of threat, immediate corrective action as well as future activity and communications to avoid and/or mitigate these threats in the future," the District 203 press release statement said.
Currently, the Dell Chromebook 11 Touch model used by District 203 students is relatively safe, according to Jaruseski.
"[Because] our Chromebooks use the Google Chrome operating system, it is very rare, and unheard of so far, for a [Chromebook] to actually become infected with malware like a Windows-based PC," Jaruseski said.
About the Writer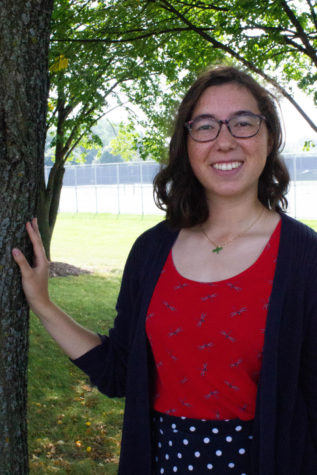 Catrina Kujawa, Staff Writer
Catrina Kujawa has joined the news team as a senior at Naperville North. She is ready to take on any role to help out her newsroom teammates. She's not...