Analysis: A look at the transgender community at NNHS
Identity: it's the everlasting relationship between who we are, how we see ourselves, how we behave, and who we will become. In high school, students constantly face the pressure of discovering their identity layer by layer. For some, this process occurs on the surface: who do I associate with? What do I aspire to be? For other students, however, the process of defining one's self lies in a type of identity established by birth: gender identity.
According to The New York Times, almost 150,000 teenagers would, if asked, identify as transgender. Naperville North tries to create an inclusive and welcoming culture, and students are revealing their preferred gender in an effort to discover their true self.
As the LGBTQ community has been featured in a multitude of television shows and news broadcasts, the movement has clearly gained traction. It is now being seen in the hallways of high schools.
"The mainstream media and shows like 'I Am Cait' and 'I Am Jazz' have perhaps made transgender students more willing to 'open up' and share their plight," Jeffery Farson, director of Student Services at NNHS, said via email.
NNHS senior Bryn Wozniak has recently embraced her gender identity, which was subtly hinted at from a young age.
"I remember vividly in preschool, I would always want to [arrive at school] first because there was this one really pretty princess dress, but I would never get there first to put it on, there was always another girl before me," Wozniak said.
According to Pew Research Center, a survey conducted with a representative sample of 1,197 LGBT adults found that 39% of these people have faced rejection by a family member or friend because of their gender identity.
When Wozniak decided to tell other students about her identity during her junior year, she already had a plan to combat others' reactions.
"I knew some of [the feedback] was going to be negative, so I accepted that it was going to be that way. I toned that out and did my own thing because I am just trying to live my own life, and I don't think anyone else should really care about that," Wozniak said.
For NNHS sophomore Camden Kiefer, the transitioning process began in middle school.
"Throughout early middle school, people hadn't gotten to know me yet so I was doing my own thing, hanging out with all the guys. Later, I realized that was weird so I went into this feminine phase which didn't turn out too well. Towards the end of that phase, I gave up on being feminine and decided to just do me," Kiefer said.
Luckily, the activities Kiefer was involved in at school didn't have an effect on who he was.
"I really stayed away from sports because I was scared of it. I was mostly in the music program so the activities I was in didn't change because music is not gender based. There would be times where I would want to do sports but then I'd opt out of it because I [didn't] want to deal with changing rooms," Kiefer said.
Kiefer had a strong support system in his transition.
"None of my close friends changed their view about me. You notice over time that [acquaintances] start to drift away, like they never really said anything, they just left. That was my only backlash," Kiefer said.
When asked what students could do to help, Mira Coy, president of the Gay Straight Alliance club at North, suggested that students be more understanding and accepting of the transgender community.
"Always try to respect pronouns but don't make a big deal if you make a mistake. Apologize and move on," Coy said.
Farson is hopeful that Naperville North's administration will continue to create an accepting environment for all students.
"I am hopeful that we can continue to learn from all of our students and that students feel as though they can come forward – and ask for assistance whenever they need it," Farson said.
Editor's note: The North Star used the subjects' preferred gender pronouns
Leave a Comment
About the Contributor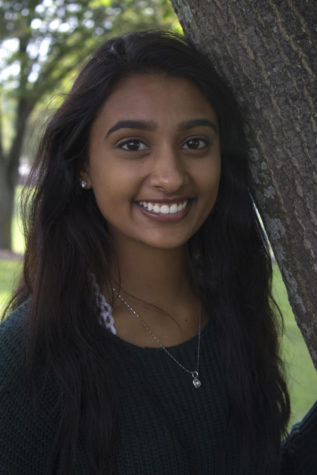 Neha Narayan, Staff Writer
Neha is a senior at Naperville North High School new to The North Star. Aside from her interest in journalism, she works as the Director of Publicity for...