NNHS girls lacrosse defeats crosstown rivals in offensive explosion
The Naperville North girls' lacrosse team handily defeated crosstown rival Naperville Central after an explosive 12-goal first half.
The Naperville North Huskies (7-5) defeated the Naperville Central Redhawks (1-9) by a final score of 16-2.
Senior Anna Platou dominated in her return to the field after recovering from knee surgery, scoring four goals as the Huskies jumped to a 12-1 led at halftime.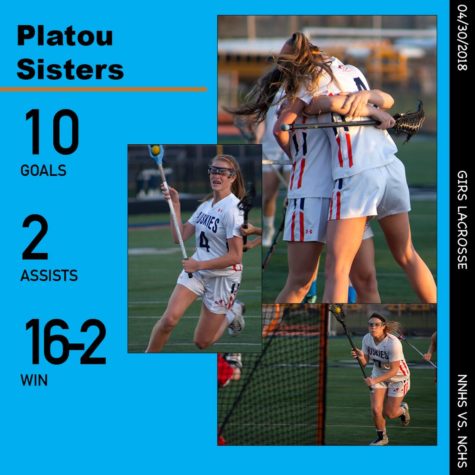 "I feel pretty good, it feels good to be back," Anna Platou said. "It's really cool to beat our crosstown rivals as a first game back."
Head coach Jessica Hogan was very impressed with Anna's debut game and the overall team performance in general.
"I always expect great things from her," Hogan said. "She's always pushing herself, and she played really well today – everyone did."
Her sister Lauren Platou was also able to quickly find the back of the net, scoring a game-high six goals.
"We always try to make sure to get as many players involved as possible," Lauren Platou said. "We are always moving the ball and finding open teammates, and that led to opportunities tonight."
The Huskies will continue their season with an away DVC game against a combined Wheaton North and Wheaton Warrenville South squad (5-3) next Monday.