Inside The Rotary Club's signs around Naperville
"You are not alone."
As students drive to Naperville North through the underpass at Mill Street or visit the train station near Downtown Naperville, they may notice a few new signs that display this reassuring message.
These signs were put up by The Rotary Club, an organization that dedicates their time to community service and philanthropy.
The club's Naperville branch and its sub-branches (Rotary After Dark and Rotary Sunrise) have been working with the community to get these signs up all around Naperville. They first made an appearance at the train station near Downtown Naperville in May 2016. They were placed to combat the high number of suicides by train that occured over the past few years.
The president of Rotary After Dark, Caroline Morrison, chose to continue posting signs because of positive feedback received from city officials and  Naperville citizens. They decided that the next place they would take action was near Naperville North High School in response to a suggestion from the local police.
"The Naperville city police approached us and said there are some areas around Naperville where we feel it would be helpful to have to have signs similar to the ones by the train station," Morrison said. "There were a lot of concerns about Naperville North so that was one of the locations that was identified."
According to Metra, there were 26 casualties by train in 2017, 23 in 2016 and 20 in both 2015 and 2014 on the line that runs through the Chicagoland area– including Naperville. In response, The Rotary Club talked with the Naperville train station and Metra. This allowed them to get the needed approval to have the signs posted.
According to Morrison, the purpose of these signs are to serve as a reminder to passersby that they are not alone and have resources available to them, such as the National Suicide Hotline.
While NNHS was the first high school to have the signs placed nearby, The Rotary Club plans to spread this hopeful message to other District 203 and District 204 schools in hopes that more students will see it. In addition, the signs can also be found in other areas around Naperville, such as the intersection of River Road and Loomis Street, with many other locations planned in the future.
Morrison hopes the signs will remind all who see them that there is help available no matter where you are.
"We want kids who are walking by, who are having suicidal thinking, to realize that they are not alone– that there is help that is available and to try to give them a way to reach out confidentially and to try to take the first steps to getting some help," Morrison said.
If you or someone you know is in need of help, call the 24/7 National Suicide Prevention Lifeline at 1-800-273-8255 or the DuPage County Health Department Crisis Intervention Unit 24-hour hotline at 630-627-1700.
Leave a Comment
About the Contributor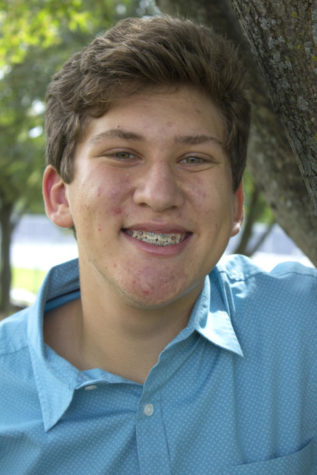 Mike Trubshaw, Staff Writer
This is Mike's first year on The North Star, and his senior year in high school. Following in his brother's footsteps, Mike is excited to be on the...