NNHS girls basketball loses nail-biter in regional championship
Friday night was the first time in over a decade that the Naperville North girls basketball team played crosstown rivals Naperville Central with the regional championship on the line, but after three intense overtime periods, the Huskies were on the wrong side of the scoreboard.
The Naperville North Huskies (16-12, 10-7) were defeated by the Naperville Central Redhawks (27-5, 17-1) in triple overtime by a final score of 65-63.
Offensively, the Huskies were led by guard Greta Kampschroeder (29 points), who hit two clutch threes to tie the game in the second overtime.
"Earlier this season, we lost by four points to Montini [Catholic High School], and Coach knew and was telling us 'you can beat this team' and it was all belief for us. I have no regrets coming out of this game," Kampschroeder said.
The Huskie defense was spectacular, keeping star Central guard Mia Lakstigala to only 17 points during the game. Shutting down Lakstigala was a major part of the Huskies' defensive gameplan.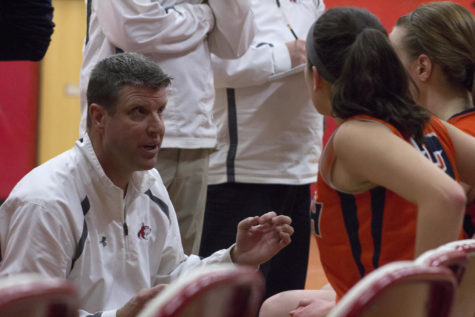 Jacob de Waard
"I think we executed the game plan exactly how we hoped too," said center Ella Bristow. "Lauren [Platou] was absolutely amazing guarding Mia. For her to end with 17 points with three overtimes is phenomenal for us on the defensive end."
Also lighting up the scoreboard with Kampschroeder was guard Nikki Kwilosz, who had 15 points to go along with five steals.
"We knew we weren't going to blow them out. We knew we had to work hard and had to go through all of those overtimes to get there," Kwilosz said. "We left it all on the court, especially defensively."
Sadie Jurkovic was a huge force in the paint, as she led the game with 10 rebounds and four blocks.
"I left everything out there. This was a win-or-go-home situation. I've never seen anyone play that hard. We all left it on the floor. We brought them to three overtimes, which is incredible," Jurkovic said.
It was the last game for a very talented senior class, including Lauren Platou, Jurkovic and Bristow, and one thing was impossible to miss: this was truly a family.
"The team that we had this year, it left a mark on my heart. I'll make sure to come back and support the team," Platou (seven rebounds, five assists) said.
This may have concluded the 2017-18 season for the Naperville North girls basketball team, but they definitely have a lot in store for next season.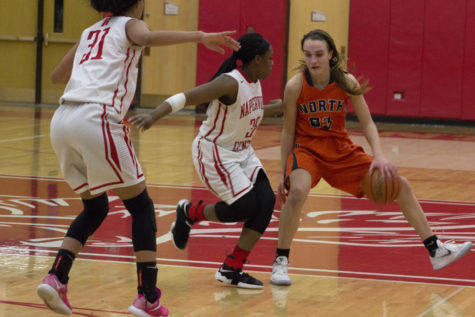 Jacob de Waard
"We have some holes to fill, but we have some kids that are pretty dang good. Greta Kampschroeder is a stud, Nikki Kwilosz has really come on and is very good, we've got Kara [Rivard] and Piper [Fenner]," Head Coach Jason Dycus said. "We have some young girls that played significant minutes this year that were major contributors on this team that should help us mold into next year."
Leave a Comment