Huskies pick up another win in heartfelt Senior Night
The Naperville North boys basketball team had a lot to celebrate after winning against Neuqua Valley on their senior night, during which many outstanding players were honored.
The Naperville North Huskies (21-2, 11-1) defeated the Neuqua Valley Wildcats (7-18, 3-10) by a final score of 63-48.
Senior night is always a big deal, as it honors the players and their families as the season enters the final stretch. For Head Coach Jeff Powers, looking back and remembering this group was extremely special brings back so many memories.
"When I first came here, they were in 4th grade at my basketball camps and I've watched them grow and play together and get better," Powers said. "They're a really special group and it was fun to see them all contribute today and play as well as they did."
Seniors Chris Johnson and Jayden Dvorak returned from injury after weeks of working to  come back for senior night.
"It took a long time to come back from the concussion, but it felt good to be on the court," Dvorak said.
Jacob de Waard
Senior Jack Hill (20 points) was absolutely on fire in the first quarter (12 points, 4-5 3PT), as continued his shooting streak from their last game against Glenbard North, where he scored 31 points.
"I've been shooting pretty well, but I wouldn't give all the credit to me. My teammates find me open," Hill said. "Especially with having Chris back, everyone's focused on Chris and Tom [Welch] now, so it gets me even more open than before."
Another senior who stepped up for the Huskies was Joe Bell, who had 10 points coming off the bench.
"Really, it was just listening to the coaches. Coach Hasse has been telling me to run the floor and box out, and those things helped tonight," Bell said.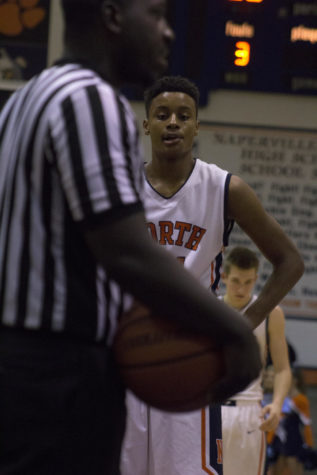 Jacob de Waard
The Huskies picked up win number 21, making this their third consecutive season with over 20 wins. Creating a winning culture starts from the bottom for this basketball program.
"It's not just me," Powers said. "Our culture comes with our coaching, from our freshman level coaches and all the way up. It's the things they do that make us better each and every day."
The Huskies look ahead to their next game next Tuesday against crosstown rival Naperville Central Redhawks (18-7, 9-4). Tip-off is currently set for 7:30 P.M.