No Strings Attatched brings NNHS students together for discussion, support
Six years ago, NNHS sophomore Bilal Mallick  lost his battle with Leukemia. Spanish teacher Emily Bishop and her students wanted to continue his legacy of camaraderie and kindness towards his classmates. That year, No Strings Attached was created, a gathering where students could freely share their sentiments and discuss how they could make an a positive impact on other students' lives.
"Over these last [six] years, this has continued in some way shape or form. [It's] just a gathering of kids who get together to talk about things that matter," Bishop said.
NNHS Junior Iggy Gamboa, who regularly attends these meetings, explained Bishop's vision for students involved, especially after tragedies that impact so many at Naperville North.
"Señora Bishop's main goal is to create an atmosphere for anyone to feel safe to vent or talk about anything," Gamboa said. "The turnout in kids is [highest] after major tragedies, when kids are looking for safety or some place to talk and feel welcome."
According to Bishop, No Strings Attached was never officially deemed a club at Naperville North. Students should not be pressured to come every time, she explained. It is available for students whenever they needed it.
"We call No Strings Attached a non-club because kids at Naperville North are already committed to so many things. If you chose to come it's great, but if you do not have time, then you aren't obligated to come," Bishop said.
No Strings Attached has had a positive impact on those who attend, helping them cope with and improve difficult situations both in and outside of school. NNHS junior Sydney McFadden, who helps lead group discussions, explained why she kept coming back.
"It is a great way for people to just let out their emotions and hear that other students are struggling with the same things as well," Sydney said.  
No Strings Attached is held Friday mornings in room 176. Students of all grades can stop by before school if they need a safe space to talk. Conversations are often based around what students can do to conquer the challenges teens face every day.  
"It is just a steady place for kids to come and talk about whatever might be happening at the time… and to think about what we can do to change the atmosphere at Naperville North," Bishop said.
Leave a Comment
About the Contributor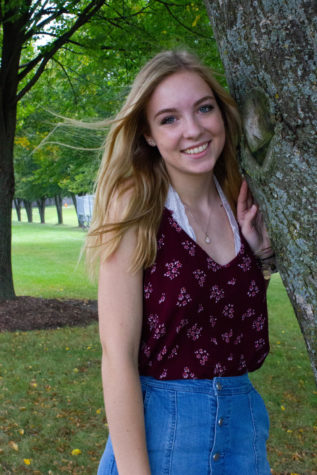 Erika Brandt, Multimedia Managing Editor
Erika is a senior and is very excited to return to the North Star as Multimedia Managing Editor and Social Media Manager. She also enjoys being anchor...