Naperville 203's Dual Language program on the rise
Every weekday morning, Cameron Hall, fourth grader at Steeple Run Elementary School, heads to class. Like his peers, Cameron learns math, social studies, science, reading and writing. Unlike most of his peers, Cameron learns half of his school subjects in Spanish.
Several Naperville School District 203 elementary schools, including Steeple Run, have implemented a language immersion program for students from both English and Spanish speaking households to promote bilinguality starting in Kindergarten and first grade.
Cameron, who is a native English speaker, recently began his fifth year of Spanish immersion.
Cameron can read and converse with friends in both Spanish and English, as well as understand Spanish and English instruction in all of the four main academic subjects. The program at Steeple Run is one of many language immersion programs sprouting up around the country.
According to Gabriela Velázquez, dual language coordinator, more parents express interest in the program each year.
"This year the number of parents that ask for dual [language] has been the highest number ever. Every school that has dual has a waiting list of students that want to enter," Velázquez said.
According to District 203 director of language acquisition, Marion Friebus-Flaman, District 203 launched its dual language program in 2007 at Maplebrook and Beebe. Since 2007, the program has spread to Steeple Run, Elmwood, Mill Street, and River Woods. Language immersion programs have also grown nationwide over the past 40 years. As reported by the Center for Applied Linguistics (CAL), in 2011 there were a total of 448 language immersion programs nationwide, up from three in 1971.
Each of the participating schools has one language immersion class that is comprised of one bilingual teacher and 24 students, with a roughly equal number of native Spanish and native English speakers, explained Cameron's mom, Amy Hall.
Because of the balance the school wishes to strike between Spanish and English speakers, the number of students who can enroll is limited. Each school holds a lottery to determine which students will enter the program, according to the District 203 website.
Many parents see bilinguality as a valuable skill for their children. According to Velázquez, bilinguality can benefit students as they enter the workforce.
"I think it's a great opportunity for every family to be bilingual. It's opening more opportunities in the job market," Velázquez said.
The Center for Advanced Research on Language Acquisition (CARLA) reports that obstacles of language immersion programs may include a lack of qualified teachers and difficulty for students in understanding complex concepts in higher elementary grades due to inadequate proficiency in their second language.
Despite potential drawbacks, the program continues to grow in popularity. Amy Hall saw the dual language program as an opportunity for her son.
"I just felt like it's a skill that you couldn't pass up," Hall said on bilinguality.
Cameron, who began Kindergarten in a class of 21 students, is now one of 13 dual language students in fourth grade at Steeple Run. Cameron believes learning Spanish will enable him to communicate with the many Spanish speakers in his community.
"It will help me because I would be able to understand more people in different situations," Cameron said.
Leave a Comment
About the Contributors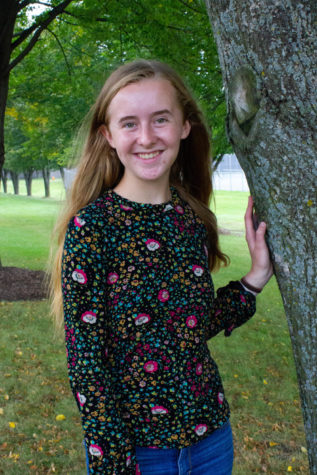 Emily Welp, Features Editor
Emily Welp is a senior at Naperville North High School and is returning for her second year on The North Star staff and her first year as features editor....