Liam's Hit O' Miss List: "Kingsman: The Golden Circle"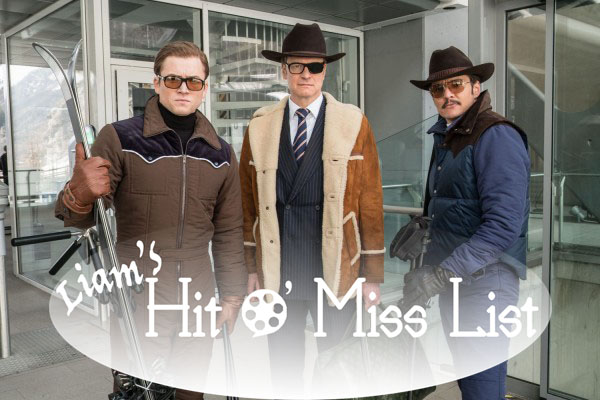 Matthew Vaughn's 2014 spy movie "Kingsman: The Secret Service" offered a nice change of pace from your typical Hollywood spy genre. Vaughn featured just the right amount of silliness that the movie needed, while also being more "light-hearted" than the James Bond series. Because of the original movie's success, audiences had high hopes for the sequel, but sadly, "Kingsman: The Golden Circle" plays a last-minute attempt to do everything without succeeding. Rather than being a light-hearted piece of creative talent, "The Golden Circle" suffers from trying to fit too much in, with too little time.
The movie starts right where the last one ended, with Eggsy Unwin (Taron Egerton) enjoying his life as a Kingsman, alongside his girlfriend, Princess Tilde (Hanna Alström), until wacky drug kingpin Poppy (Julianne Moore) blows up all the Kingsman enterprises and associations. Eggsy and Merlin (Mark Strong) are the only two Kingsman left standing, forcing them to seek help from their American cousins: the Statesman. Once in the United States, the two are pleased to discover an alive Harry Hart (Colin Firth), mentor to Eggsy who had been previously assumed dead, who had been suddenly brought back to live by the Statesman. There they also find out that Poppy's evil plan, which could earn her millions, allow her to come out of hiding from her South American refuge. Eggsy must team up with the Statesman and Hart to destroy Polly's plans and save the world… again.
Within the first 20 minutes, the viewer already gets the sense of a rushed storyline. This includes an action-packed fight scene, the exposition to the villain, the destruction of the Kingsman, and a completely other side-story involving Eggsy's girlfriend. The plot is scattered, throwing in last minute ideas that all don't seem to fit together in the end.
Now, while I criticize the movie, I also want to mention that I still got a thrill out of it. The villain, Poppy, was a nice change of pace from Valentine (Samuel L. Jackson) from "The Secret Service". Opposite to Valentine's unforgettable lisp , Poppy brought in a bunch of goofiness, but balanced it out with her Julianne Moore composure in an overall, neat way. I also enjoyed the young Taron Egerton's performance. He plays a great protagonist in this genre and I can't wait to see what he has up his sleeve. However, the Statesman actors are different stories entirely. Channing Tatum, who portrays Secret Agent Tequila, only appears for a mere 10 minutes before being put into a deep freeze for the rest of the movie. In addition, it's hard to even take Head of Statesman, Champagne (Jeff Bridges), seriously. It's as if Bridges doesn't know whether to be funny or serious, and the director just chose him for the role because he was a huge fan of his work in "The Big Lebowski."
Coming in at just under two and a half hours, "Kingsman: The Golden Circle" seems like it does more for the production crew than its own audience. There's no room for any of the ideas in the movie to breathe, making the movie seem rushed and out-of-pace. While cameos from Elton John and Hallie Berry were nice, and well thought of, the movie lacked that extra bit that could have pushed it further. Overall, the movie wasn't what I was expecting when I walked in. It tries to echo the original in the exact format, but falls short of surpassing it. It attempted to be creative, but it was almost as if everything was being pushed onto the audience, to make sure they had your attention. I personally was okay with this feeling, but other audiences might not feel the same, and for that I give this movie a 7.5 out of 10.
Leave a Comment
About the Contributor
Liam Stenson, Staff Writer
Liam Stenson is a senior at Naperville North High School and is excited to start a new part of his life as a Staff Writer with The North Star. When he...