Editorial: Student health demands late start every day
January 29, 2017
Homework. Jobs. Social Life. Sports. District 203 students are always trying to balance competing demands, and most do so by sacrificing the one thing they feel they can: their sleep. Simply ask your average NNHS student, "How many hours of sleep did you get last night?" The answer, invariably, is "not enough, I'm tired."
At a school board meeting Jan. 9, Dan Bridges detailed a proposal to have one high school late start each week. This will be presented at a future Board of Education meeting. This later start allows time for structured collaboration between staff, called Professional Learning Communities (PLCs). (The district's proposal does mention they will consider other changes for the 2018-2019 school year.)
The 3.18.A committee, as part of District 203's Focus 2020 strategic blueprint, was created to analyze how to best structure the school day. The district sent a survey to students, parents, district employees, and community members in October 2016. Readers of the once-a-week late start proposal might be surprised to find that students' health and sleep was overwhelmingly named the top school day priority.
The North Star has no problem with more teacher meetings or a late start on Wednesdays, but the proposal seems to ignore the most critical need, at least for students. In fact, the new plan might make sleeping patterns even worse. The North Star believes our school board members should scrap the plan, and start the high school day later every day.
According to the National Sleep Foundation, teens need 8-10 hours of sleep each night to function best. Only 15 percent of teenagers meet that standard. Real-life teens average only about seven hours. Teens aren't lazy; puberty simply pushes back the biological rhythms of their sleep. High schoolers have trouble sleeping before 11 p.m., which leads to irregular, weekly sleep patterns and large amounts of rest on the weekends. In the early morning, even with enough sleep, high school students simply aren't as awake as younger students. A daily late start would promote strong and healthy sleeping habits; a weekly late start might be worse than the current schedule.
The American Academy of Pediatrics states adolescents who don't get enough sleep often suffer from physical and mental health problems, increased risk of automobile accidents, and a decline in academic performance. The AAP recommends that middle and high school students start school later in the day, at 8:30 a.m.
The North Star acknowledges a change this drastic will cause numerous scheduling headaches. However, according to Education World, when Minneapolis pushed their start time back, problems with athletics and busing turned out to be overstated. In fact, if Naperville moved to a late start, they would be joining a national trend to help teenagers learn and be healthy. The science is clear. The need is clear. The solution is clear: Teens should be sleeping later in the day, every day.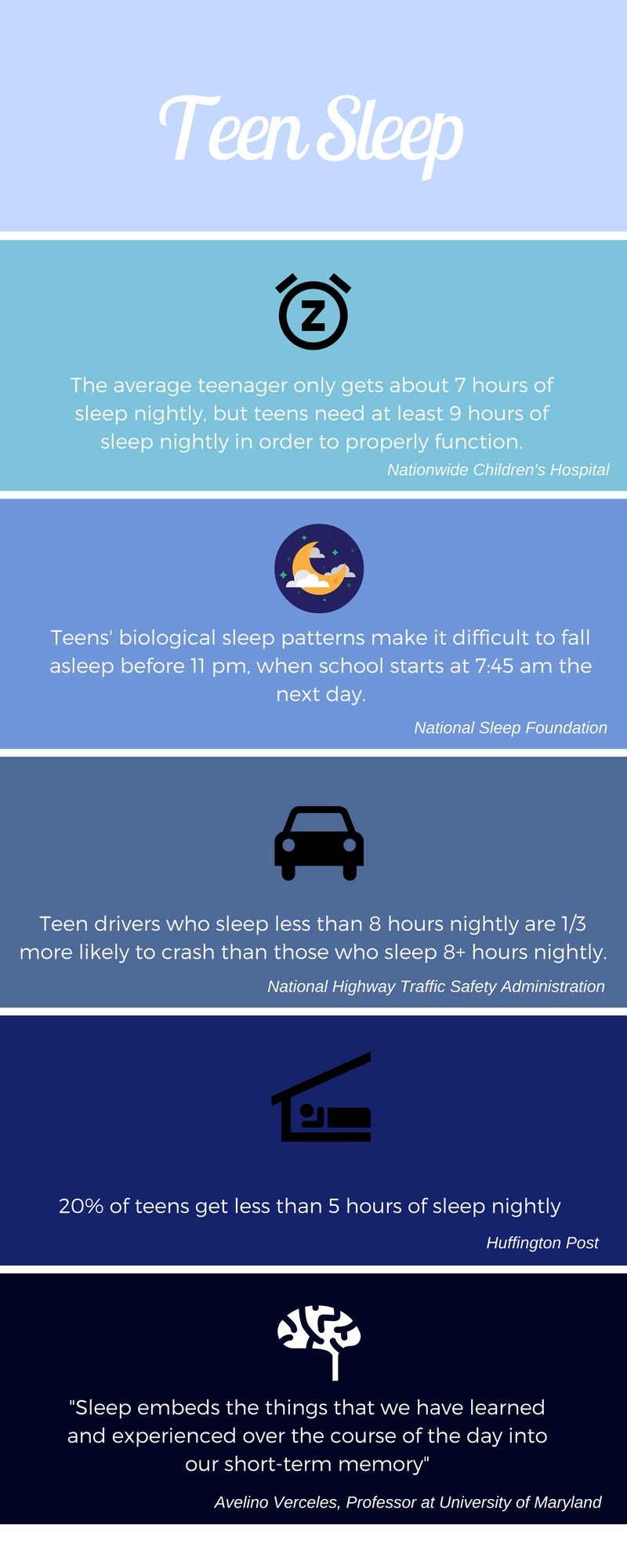 The obvious problem in starting the school day later that concerns some teachers is shortened instructional time. But this problem is surmountable. According to District 214's website, the Northwest suburban high schools will start later in the 2017-2018 school year by shortening 50 minute class periods by 2-5 minutes. This allows the school day to start 45 minutes later and end only 25 minutes later than their current schedule.
NNHS sophomore Jordan Thukkaram is one of many students who has trouble fitting sleep into his busy schedule. He described his struggle to stay awake in class and has even fallen asleep at times.
"Often, I get home really late and there's not too much time to do my homework before the 'reasonable' time to go to bed. Having a later start would give me extra time to do my homework and go to bed," Thukkaram said.
Students should be able to prioritize their personal health above all else. However, both the current school schedule and the proposed change make this nearly impossible. A later start every morning will not only help students be focused and on top of school work, but also balance the demands and pressures of everyday life. Every day, the District 203 school board can show they care about students' health by ringing the first bell after 8:30 a.m.
This editorial was written by Julia Shanahan and Julia Donofrio. It was reported by Jayla Butler, Morgan Gerhardt, Hannah Jorstad and Maddie Krebs.