How to watch March Madness when you don't know anything about basketball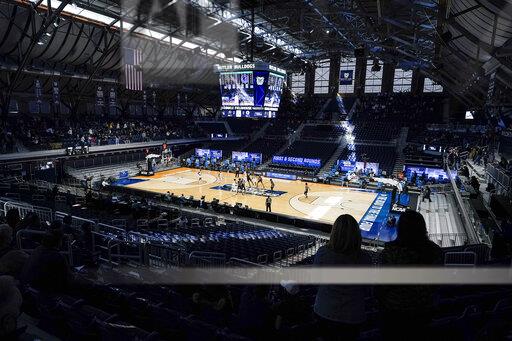 March Madness is one of the few times basketball is on in my house, so obviously I don't know much about it. You're probably wondering, 'why is this girl trying to help me understand what's going on, when she doesn't even know?' So to be completely candid, that's a very valid question. Don't worry though, I've done extensive research and since I work in a restaurant I've seen more games this past weekend than I have in my whole life. 
My mom has never been a fan of the way basketball shoes squeak on the court, so when my parents got married, she gave my dad a choice: he could either watch basketball for the rest of his life or watch golf for the rest of his life. Being the amazing husband that he is, he obviously chose golf. However, March Madness is his 'get out of jail free card.' So, for the span of about four weeks, my house ricochets with the noise of nothing but squeaking basketball shoes and whistle blows. 
Though I don't know too much about basketball, I thought this year's March Madness would be a great way to start learning. Before we learn about this specific tournament, let's start with the basics of basketball. Greta Kampschroeder, a senior and shooting guard for Naperville North's varsity girls basketball team, explains the goal of the game. 
"There are five players per team and the game starts with a tip off which is when the ref throws the ball into the air and one player from each team jumps up and tries to tip it towards their team before the opposing player does. After that, the objective for the offense is to put the ball in the hoop and the objective for the defense is to stop the other team from putting the ball in their hoop," Kampschroeder said.
Depending on the level in which the game is being played at, the time in the game is different. For example, the high school level plays for a total of 32 minutes, while at the professional level the game totals to 48 minutes. For March Madness, which is men's college basketball, the game is played through two 20 minute long halves totaling to 40 minutes of game play.
Ideally a March Madness game would last just about 40 minutes, but this is never the case. Much like football, the clock stops multiple times a minute, especially towards the end of the game. The game comes with a 15 minute long halftime, a multitude of various commercial breaks as well as in-game pauses like out of bounds and timeouts. However, the most common reason the game can be slow is because of fouls. Senior Liam Kim, a point guard for Naperville North's varsity boys basketball team, shares possible reasons for fouls and violations.
"A foul refers to illegal personal contact or unsportsmanlike conduct on the court or sidelines of a game and most player fouls involve contact between opponents. Other than fouls a ref might make calls on traveling, double dribbling and line violations (going out of bounds)," Kim explained. 
Now that we've covered all of the basics of a basketball game, we can get started on the fun stuff. March Madness starts with one of the most exciting weekends in sports with as many as four games occurring at once, all single elimination and with upsets galore. 
Even if the game doesn't grab your attention there are still a ton of ways to get involved with the tournament. For one, there are 68 teams involved throughout the three weekends and — in one way or another — you are bound to have ties to at least one school. You could support the college you live by, the college your parents went to or siblings go to, or maybe you support your dream school or school you've gotten into. You might want an excuse to wear your favorite college sweatshirt; whatever the reason is you'll feel more involved in the tournament if you want certain teams to succeed. If you're currently thinking 'man no school comes to mind' I have got an answer for you. Cheer for Loyola! Not only is it an Illinois school, but North alumni, Tom Welch, is currently on Loyola's basketball team. To top it all off they just beat Illinois, the top seed in the Midwest portion of the tournament. Loyola will be facing Oregon State in the Sweet Sixteen on March 27 at 1:40 P.M.
If all this information is making you excited, take March Madness to the next level and fill out a bracket. There are multiple different apps that offer free brackets that you can make for your friends and family. If you don't know anyone who would be interested you can look on Yahoo!, ESPN, NCAA or CBS Sports; they all offer random groups where you can enter a bracket to compete against others. 
Now that we know how the game works and who to cheer for the last step is watching the tournament. To add some fun and understanding to what we are watching it's important to know a bit of basketball vocabulary. Seniors Grant Johnson and Peter Krebs, Naperville North boys varsity team's forward and shooting guard, respectively share five terms that are essential to understanding the game completely. 
"(1) Three pointers are when someone is behind the three point line (the outermost line) and gets three if they make it and (2) two pointers are when someone is inside the three point line and gets two if they make it. (3) Free throws are also a term you should know. You are awarded free throws whenever you are fouled while you are going up for a shot. (4) Then there's a bonus which is where if you shoot one free throw and if you make it, you are awarded a second free throw, but if you miss it, it becomes a live ball (fair game for either team). Also a double bonus is where you shoot two free throws no matter what (if a team is over the foul limit). (5) [Another] term is called a screen which is where you put your body near the opposing defender so that the person with the ball can get free and have more space to work with," Johnson and Krebs said. 
With an entire year of social distancing from family and friends, being a part of something that brings people together can be hard to find. March Madness is one of those rare times we can feel together even if we aren't physically. While tuning into March Madness over the next couple weekends make sure to keep these tips, terms and rules in mind. 
About the Writer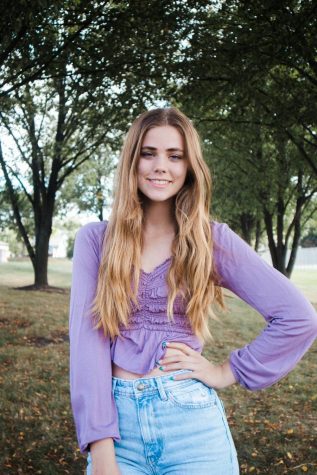 Julia Putman, Multimedia Managing Editor
Julia Putman is a senior at Naperville North High School and is excited to take on the position of Multimedia Managing Editor in her second year writing...