March 13th, 2020…One Year Later
Dynamic. Exhausting. Disorderly. Tense. Surreal. Depressing. Enlightening. All words the students at Naperville North used to describe this past year. 
A little more than a year ago, a new and poorly understood virus  made its way across the ocean to the United States. The coronavirus was first identified in Wuhan, China in December 2019.   
Though it was a new and powerful virus, in January and February, few Naperville residents knew enough to worry. However, by early March, fear and disappointment grew when the virus began to bite away at the normality of people's lives. Sports games and school competitions began to be cancelled, one after the other, in March. And on Friday, March 13, the district canceled school and most activities until April 6 — extending an already oncoming spring break.  
Nobody realized that March 13 would be the last day many students would be in school for the next ten months.  
Here, in the students of Naperville North's own words, is how they remember the final Friday and the events that followed throughout 2020.
Just a regular Friday
CAITLIN SCHARM (sophomore) March 13, 2020 was a day that changed all of our lives, probably forever. I remember sitting in my classes beginning to hear rumors about having an early and extended spring break.
EVAN STRAKA (junior) I remember walking out of my seventh period class and hearing the other students discussing that we would not be having school on Monday because of a new virus. It was a total shocker. I had been telling myself and my friends the whole day that I did not think it was going to end up as bad as we thought, and I was very wrong.
BELLA GRIMALDI (sophomore) As soon as the announcement was made towards the end of the day, you could hear the school cheering, as everyone was so excited for the 2 weeks off school. I remember leaving everything in my locker and my gym locker because I was convinced we would be back in only a couple weeks. 
JESSICA BOROZAN (senior) I was excited that school was cancelled. Looking back, I know that myself nor my classmates really understood or realized how big of an impact this pandemic would have on us moving forward.
JOE STELLE (senior) It was something straight out of a nightmare, 'You can't talk to people, you can't see people, restaurants and social buildings are closed, and you have to follow these strict safety protocols indefinitely' is what we were told. It was just so out of the left field…for a second I was convinced it wasn't real.
GRACE BAVA (senior) When I heard we would be off, I thought that it would be an additional two  week spring break. After a month, I missed school and socializing with my friends and teachers.
Everyday is the same…challenges of quarantine  
HANA CHALIKI (junior) It felt weird not being able to see my friends or get out of my house. I was literally trapped at home.
GRIMALDI As the days went by, it felt more and more like a repeat of the last. I felt like I was in the movie Groundhog Day. I missed normal life so much.
SCHARM For me, the hardest part of the spring stay-at-home order was the uncertainty. I didn't know how long it would last, how long till I could see my friends, how long till I could go back to school, how long till things went back to normal. 
TIFFANY CHENG (junior) I personally struggled with unproductively because all the structure in my day that in-person school had provided was completely gone.
STRAKA Personally, the hardest part of staying at home was not getting to see my grandparents. They play such a huge role in my life and I love them very much. I was constantly worrying about their safety and their situations with the virus, and not being able to help them at all made it even worse.
CHARLIE KENNEDY (senior) The hardest part for me was not being able to see my friends or go to school. I'm a rather extroverted person, so being stuck at home alone was a huge mental challenge for me. 
BOROZAN I know that spring 2020 was really difficult for a lot of people, and for a lot of different reasons. I think people just felt really alone and we're grieving the life they once had. But we were all able to get through it!
Distractions and revised social lives
SAM VISSER (junior) Through all the uncertainty, it was important to me to try and stay busy and find ways to connect with friends.
STEELE The only real social interaction I really got was through social media or these really infrequent, distanced social gatherings.
BOROZAN My friends and I would Netflix Party almost every night. We watched movies together and also watched full seasons of TV shows like All American and Outer Banks.
GRIMALDI I kept close contact with my friends by FaceTiming them every day and texting…During quarantine, I watched a very unhealthy amount of Netflix. I also did a lot of baking, and even got into a workout routine. 
KENNEDY I did a lot of writing: songs, stories, comedy… things to keep my mind busy. I watched a lot of T.V. shows and movies. 
GRIMALDI When I think of April and May, it's just a big blur. everyday was the same routine in different fonts. it is crazy to think it has almost been a year.
One year later 
CHALIKI So much has happened in 2020, but it still feels like the first quarantine just happened. It's crazy to think I was a sophomore and all of a sudden I'm almost done with my junior year. 
SCHARM Personally, it's difficult for me to comprehend that it has been almost a year since March 13, 2020. It feels much shorter. I think this is because our lives were put on hold. Everything in our lives paused, but time didn't.
CHENG 2020 feels like it went by in a flash, and online school just makes the days blur together since everything feels pretty repetitive.
KENNEDY It's crazy to think that we were all together a year ago and that we were clueless as to how our lives would change.
VISSER But life is finally feeling to become normal, a different normal, yet normal. And I'm grateful for that.
Reflection and lessons 
STRAKA The year has taught me a lot. I learned that while friends and family are very important, it is always good to take time to work on yourself and be by yourself.
BAVA Throughout 2020, I had friendship changes that I didn't expect. However, it taught me that sometimes people are taken out of your life for a reason and you need to trust the process. 
GRIMALDI I realized how important it is to have your own opinions and don't give into the media. Lots can be said or toyed with that is simply false. I learned that I need to live by my own opinions and feelings and not give into the peer pressure of others.
CHENG 2020 taught me that school is optional… just kidding! It taught me that being adaptable is the key to getting through tough situations
BAVA I learned that this whole year happened to make me stronger, and instead of looking for what didn't happen, I should be grateful for what did.
STRAKA 2020 was a great opportunity to learn these lessons and this could have very well been a turning point in many people's lives.
SCHARM March 13, 2020, was the day that everything stopped, yet it was the day that everything started.
This oral history was based on a series of student interviews recorded over the last two months. 
About the Contributor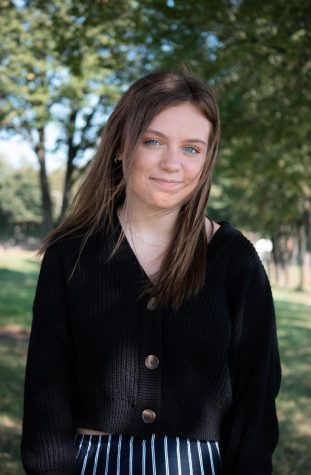 Tessa Devine, Managing Editor
Tessa Devine is a senior at Naperville North and is beyond honored to be this year's Managing Editor. Tessa loves feeling connected  with her school...