Huskies Heroes
The Naperville North students who have played essential roles in the COVID-19 pandemic, and the abnormality of working as a student during the pandemic.
In her two years working at the front desk of a chiropractic office, Matilda Inglis never imagined she would be responsible for organizing and recording COVID-19 tests. But just as quickly as her senior year plans changed, so did her job responsibilities. 
Now, her usual Saturday shift consists of stocking extra supplies for tests and working with patient information as over 70 cars make their way through the parking lot turned testing site. Though she still finds it strange to be a 17-year-old essential worker, she explains that the uniqueness of her situation has taught her a great deal. 
"I've never really desired so much to have a profession in the medical field when I'm older, but still it has definitely taught me how to work with all kinds of people and how to manage people, sometimes who aren't really willing to do what they need to do," Inglis said. 
Along with online school schedules and extracurricular activity changes, many students at Naperville North have found their jobs altered in the past nine months. Several have taken on positions of the community's essential workers, qualified by the state of Illinois under "Healthcare and Public Health Operations, Human Services Operations, Essential Governmental Functions and Essential Infrastructure." 
As essential workers, the function of each job becomes increasingly important. In these positions, students are not only accountable for their choices, but can also see the impact their choices have on their community. Once fairly non-stressful jobs have evolved into high-stake roles, adding to the responsibility said students face. 
Senior Emily Piekarz was hired as a dietary assistant at Beacon Hill, an assisted living facility, in June. As the pandemic continued, so did the precautions she took on as a healthcare worker. Piekarz spent much of the last months trying to stay safe in order to avoid exposing residents, in addition to being tested each week through her employer. As cases rose, she received increased bi-weekly testing. More recently, Piekarz was excited to receive her first and second vaccine doses, in order to keep the residents she works with safe. Though she must make every effort to keep healthy for her job, Piekarz emphasizes that it was worth it in her eyes.
"It's definitely harder working with the elderly and in healthcare in the Covid setting, but they are people that need that extra assistance." Piekarz said.
North senior Janelle Smith spent most of her summer as a Covid test recorder for Dupage Health, gathering patient information in the drive-thru line before each was tested. Spending most of her hours working with possible exposure patients, the threat of Covid was a constant in her workplace. In her position however, Smith explained how quickly she realized COVID-19 was spreading, and how nerve-wracking it was. 
"I think I was a little numb to it at the time, because you're working a lot, but it brings to light the sheer amount of people that were coming in, it was jarring." Smith said. 
Working with coronavirus has been a learning experience for all ages and occupations, but like Smith many teens are learning to adapt quickly to a completely new work environment. Though this can be stressful and sometimes overwhelming, it can leave an impact on their future careers, and the efforts they make to help others.
Senior Anika Karumuri has been volunteering at Edward's Hospital for over two years, where she spends her Monday afternoons greeting guests and helping in any way she can. Though COVID-19 put copious amounts of stress on the hospital and its workers, Karumuri explained how the experience has inspired her dream of one day becoming a doctor.
Many students deal with the stress of high school classes and college applications, and students working essential jobs have added another incredible responsibility to their everyday lives. However when reflecting on it, student essential workers, like Karumuri, explained how humbled and inspired they are by this process. 
"Being in the hospital and seeing all the doctors, and the hustle they put in, it makes you realize what the work of one doctor can do for someone else," Karumuri said. "You have to have a great ability to care and empathize with others, and it's made me realize how much dedication and time I want to put into this in my future." 
About the Contributor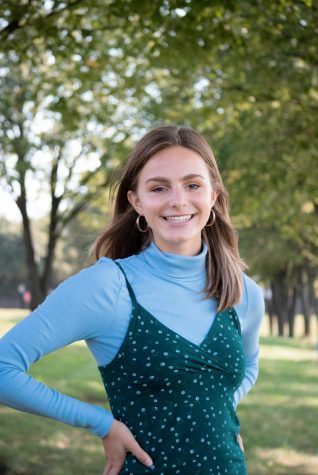 Beth Carlson, Multimedia Managing Editor
This is Beth's second year as part of The North Star. As Multimedia Managing Editor, she is excited to write and create new content for The North Star...