Pandemic pets support mental health
The coronavirus pandemic left many families in Naperville wondering what to do with all the extra time on their hands. Between online school, working from home and quarantine orders, families found themselves confined to their houses. Opportunities for social interaction were lacking, contributing to increased feelings of isolation for both parents and children alike. 
Many found the answer to their problems through pet adoption — a process that has proven to have many mental health benefits. Lauren Lonski, the Humane Education Manager at the Naperville Area Humane Society, said that many of their adopters have appreciated having a companion through this difficult and unprecedented time. 
"Many people have said that having their dog or cat helps keep them positive through all of the arising challenges and changes," Lonski said.
The benefits of animal companionships are nothing new. In fact, the Human Animal Bond Research Institute (HABRI) says that for years, human-animal interactions have contributed to "improving social connections, providing social support, decreasing loneliness and depression." In a survey from the HABRI Summit on Social Isolation and Companion Animals in 2019, they found that 85% of people believe that interactions with pets can help reduce loneliness and 76% of respondents agree that human-animal interactions can help in addressing social isolation. Several new pet owners in Naperville reported feeling the same way
Naperville North science teacher Katherine Katsenes lost her dog this past December, and for the first time in 22 years she was without a dog, but she did not think she had enough time on her hands to raise a puppy. Then the pandemic hit and suddenly she had nothing but time. So, she adopted Fiona, a shetland sheepdog, and says she is "just so happy." Playing with Fiona and taking her on walks gives Katsenes a much needed break from the hours she spends looking at a computer and she has found raising Fiona to be very stress relieving. 
"I don't think I would have done it though, at least gotten a puppy, if it wasn't for quarantine," Katsenes said. 
Ellie Rancich, a Naperville North senior, had been trying to convince her parents to get a dog for years, but it wasn't until quarantine that they finally started looking for a dog.
 "Everybody was adopting dogs so we had a hard time finding a rescue with a puppy," Rancich said. 
The family finally found a yellow lab, and after many family dinner conversations, they decided on the name Sawyer. They have loved having a new puppy around and have also found that the addition to the family has helped with loneliness.
"It's nice to have someone to hang out with," Rancich said.
The Naperville Area Humane Society has had to adapt their adoption process as a result of the pandemic, but the long term safety and happiness of their animals always remains at the center of their attention. With many people adopting during quarantine, when their lives are typically less busy on a day to day basis than in a normal year, it is important for them to consider the amount of time they will have to care for a pet once the pandemic comes to an end.
"We try to get as much information about their lifestyle and what they are looking for in a pet when scheduling the appointment and have encouraged our potential adopters to think about what owning their new pet will look like once quarantine is over," Lonski said. 
Over the course of quarantine, especially during the summer months, the Naperville Area Humane Society saw an increase in pet adoptions compared to other years. There was an increase in dog adoptions during May, June and July, and a very noticeable increase in kitten adoptions over the summer months as well.
There is a reason for the old adage that dogs (or pets in general) are a person's best friend. There is something about being welcomed home after a long day by a loving pet who has been anxiously anticipating your arrival. Quarantine has not been easy for many. The lack of opportunities for social interactions, rising feelings of isolation and increased screen time has taken a toll on many people's mental health. However, animal adoption has proven to be a positive way for many people to adjust to their new reality.
"Some of the feedback and updates that we've heard from adopters is that they love having a companion with them during this difficult and often lonely time," Lonski said.
About the Contributor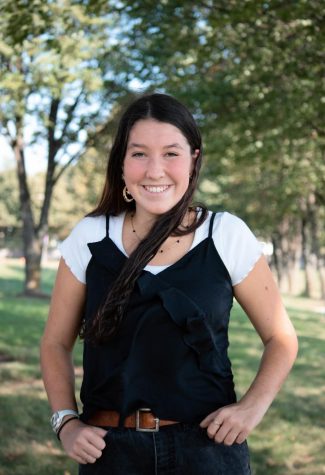 Nora Fitzgerald, Staff Writer
Nora Fitzgerald is a senior and first-time staff member of The North Star. She is excited to explore the world of journalism and further develop herself...