NNHS girls swim gears up for sectionals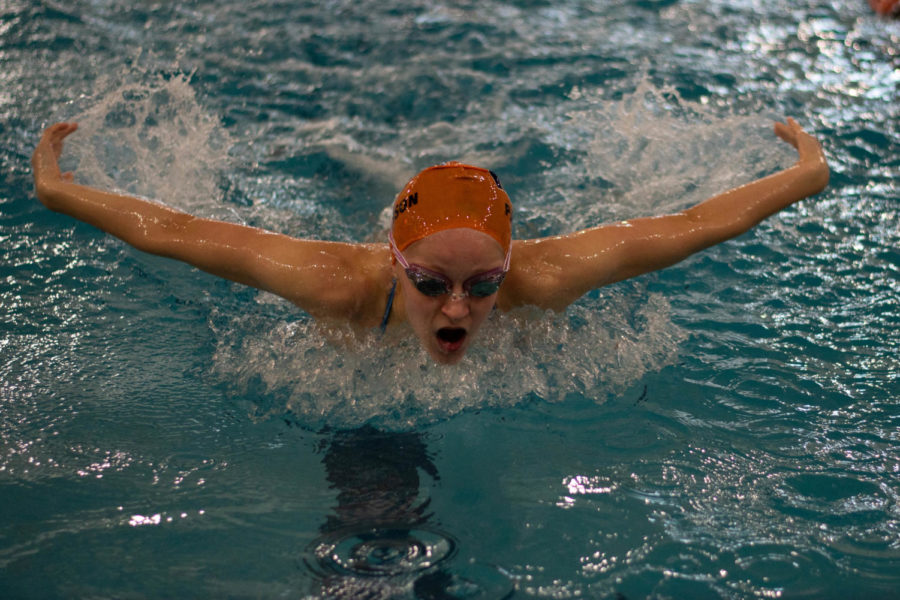 They're at school at the crack of dawn, starting practice at 5:30 a.m. They practice six days a week, between two-and-a-half and three-and-a-half hours a day. The Naperville North girls swim team's dedication to their sport is built into their time spent at practice.
Girls swim has been successful throughout this year's season. From winning the Rosary Invite for the first time in the program's history, to placing second at DVC, the swimmers are preparing for what will hopefully be a successful sectionals meet. 
"Our team's faster than literally it's ever been the last five years. Now, we are gearing up for championship season and hopefully we will do really well there," says senior Kelly Zhou.
For the past two and a half weeks, 15 swimmers have been practicing extra hours in preparation for sectionals, continuing with morning practices while the rest of the team only had afternoon practices. These swimmers were chosen by Head Coach Andrew McWhirter, who took the average race times of everyone on the team and chose the swimmers with the best times in each event. The girls going to sectionals are Melissa Troy (12), Kelly Zhou (12), Lizzie Patterson (9), Klara Gilvydis (9), Hayley Swatland (9), Alex Mantel (10), Amanda Ng (10), Cambria Swanson (10), Cameryn Schmidt (10), Claire Brown (11), Claire Jansen (10), Holly Wessel (11), Katie Chan (11), Megan Simonson (11) and Maddie Konrad (10).
Their practices differ from morning to afternoon. Morning practices tend to be more relaxed, with the swimmers working on technique instead of hard-hitting workouts. Additionally, some morning practices are spent in the weight room with personal trainers from Achieve Personal Training. Afternoon practices are more intense for the swimmers, with longer and faster sets. 
"Morning practice is more chill than afternoon practice. Afternoon is more hardcore. We start our warmup and then get to an intense set where we are sprinting," says Swanson. 
Even though the sectionals swimmers have more hours of practice than the rest of the team, they have begun a training technique called tapering, where the intensity of workouts decreases as sectionals come closer. Tapering is supposed to help the swimmers' bodies recover and give them the best chance of doing well at sectionals. 
"Sectionals is always a wild card though, depending on how you taper. It really depends on how much effort you put in," says Konrad. 
In addition to tapering, about two weeks before sectionals, the swimmers began utilizing another training technique called visualizing, where the swimmers think about their race, from the moment they enter the water to the moment the timer is stopped. 
"We take some time out of practice to lie down or sit and close our eyes. Coach will give us stopwatches and he says 'Take your mark. Go.' We then have to visualize the race we're swimming at sectionals and stop the stopwatch when we think we finished. This is supposed to get us used to thinking about every part of our race and get us as close to the time we want as possible," says Simonson. 
The team feels their hard work and dedication has paid off throughout the season and will help them do well at sectionals. Despite having individual events, the swimmers know that they all need each other in order to succeed at sectionals and aim for state.
"I think the season has gone really well. I think both relays will qualify for state when only one did last year," says Swanson. 
The long practices and hard work in preparation for sectionals have brought the team closer than ever before. Because of the countless hours they spend together at practice, the girls think of themselves as more of a second family than a team.
"Even though we're together all day every day of the week, we still end up hanging out outside of swim to spend even more time together," says Troy. 
The swim and dive sectionals meet is set for Nov. 16 at 1 p.m. at Neuqua Valley High School.
About the Writer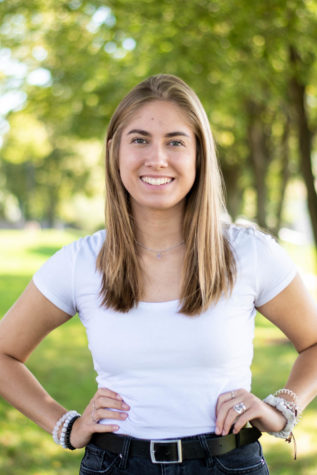 Elena Bellisario, Staff Writer
Elena Bellisario is a senior at Naperville North and is excited to be working on The North Star for the first time. She mainly focuses on photography,...