Popularity of Strength and Performance class raises issues for weight room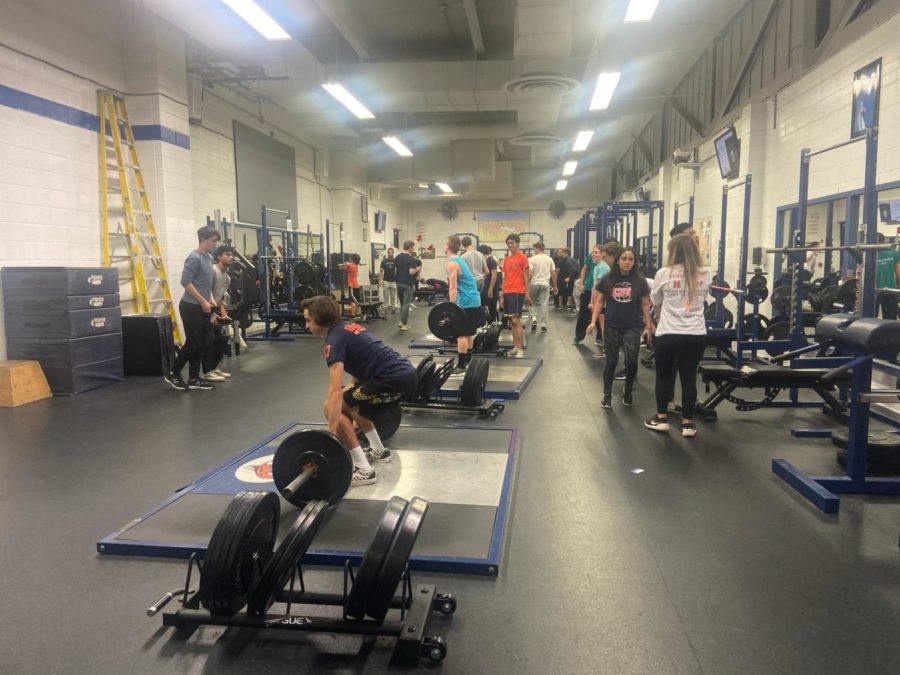 Elena Bellsario, Staff Writer
October 30, 2019
The rate of obesity in the U.S. is rising, with about 35% of adults living in Illinois in 2018 reporting themselves as obese, according to the Centers for Disease Control and Prevention. Now, more than ever, it's necessary for students to start making healthy lifestyle choices. 
With homework, studying, clubs and jobs, it can be hard for students to fit a proper workout into their day. However, a Physical Education class offered to juniors and seniors gives students an opportunity to complete their workout during school. Strength and Performance, led by P.E. teachers Kevin Benages, Christopher Arthurs and Jason Majchrowski, is a class where athletes and non-athletes alike can come together to work on personal fitness goals, with an emphasis on weight lifting and overall body strength. 
"Our goal with this class is to encourage the student population to lead healthy lifestyles," Benages said.  
Starting in the fall of 2017, Strength and Performance ran for four class periods a day with about 40 students in each period. Now, the class runs for eight periods of the day with 37-42 students per class. 
A typical class period starts with students completing a warm-up projected on screens around the weight room. After their warm-up, students can either work independently or in groups on their daily workouts. They access these workouts on an app called PLT4M, which allows teachers to input formulated workouts. Students can look at instructional videos and check off their workouts on the app. The class periods end with recovery and stretching. 
Due to the growth and popularity of the class, some students believe changes to both the curriculum and the weight room are necessary for the program to continue running efficiently. Senior Makenzie Bauer has been taking the class since the first semester of her junior year. She feels as though the curriculum has improved, with more emphasis on safety and injury prevention taught earlier in the year. However, she feels that the weight room still needs improvement in equipment and spatial issues. 
"I would say the weight room is adequate but not great. With the volume of people in the class, there is not enough space to make sure everyone has the equipment they need to get their workouts done in a timely manner," Bauer said. 
Benages recognizes the issues of the small weight room and is working on plans to expand the space. 
"We want to maximize how many athletes we can have in the room at one time. Right now, we can efficiently operate with a max of 45 students. With the renovations, we could maximize between 80 and 100 students in the room," Benages said. 
Benages wants to make the weight room state-of-the-art. He, along with other teachers, are currently in the process of designing the new weight room and bringing in people to quote the costs of these renovations. After they come up with the most cost-effective plan, they will pitch their ideas to the administration. Despite the current spatial issues, Benages and Majchrowski continue to improve the curriculum to accommodate students of all fitness abilities. 
"Each year we try to add more programs that will suit the needs of all students that take the class. We have a large athletic population but we also have kids involved in other activities or students who just like to workout. We want to get them programs and individualized help that will help them meet the goals they have set for themselves," Majchrowski said. 
Even with the program's issues, Benages and Majchrowski are delighted by the increasing popularity of the class and students' drive to live healthier lifestyles. 
"We started the class as a way to provide students with an opportunity to get something out of their day and find a spot to get their workouts done during the day. For me, it is nice to see students that are genuinely interested in the class and that take pride in being a part of it," Majchrowski said. 
About the Contributors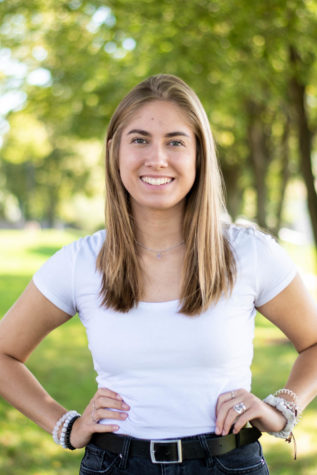 Elena Bellisario, Staff Writer
Elena Bellisario is a senior at Naperville North and is excited to be working on The North Star for the first time. She mainly focuses on photography,...