Huskie girls golf looks to continue winning season at State championships
The Naperville North girls golf program has enjoyed stellar performances in recent years, including a seventh-place finish at the State Championship last year, and this season has been no different. Following an undefeated record in dual match-ups and a subsequent DVC Championship, the team has continued to dominate in the postseason.
On Monday, the crew of seven varsity players secured a Sectionals Championship win with a team score of 317, with seniors Hannah Martin and Emma Lin placing second and fourth overall, respectively. 
Despite their win, the competition was close: there was only a ten-point separation between the first and fourth place teams. While players had mixed feelings about their individual performances, Lin, a team captain, felt their finish showed consistency in the team.
"The fact that we got first just shows we're always going to have people scoring really well," Lin said. She later concluded, "Anyone can have a good day, so you just have to try your best."
Naperville North varsity coach Greta Williams is proud of her players' success this season, but thinks there is still more potential to be tapped into. 
"We're never satisfied with how we're playing," Williams said. "We haven't yet this year had everybody play as well as they wanted to play."
The team is hoping for the pieces to fall into place this weekend at State. Senior Gabby Hammond recognized that the key to playing well is winning the mental game.
"We just have to remember that every shot's a new shot, every hole's a new hole and that every shot counts," Hammond said. 
Lin is excited to play at her final State competition, but above all, is looking for the team to stay together and persevere. They have already enjoyed success throughout the season, and now they're looking to finish strong.
"We're a team, for one," Lin said. "We got where we wanted to be. Now it's just work as hard as [we] can to see how high we can get."
The state-qualifying team includes Martin, Lin and Hammond, as well as senior Emily Nay, junior Emma Kirvan and freshman Erica Lei.
The Huskies will travel to Hickory Point Golf Club for the two-day State Final Tournament on Oct. 18-19.
About the Contributor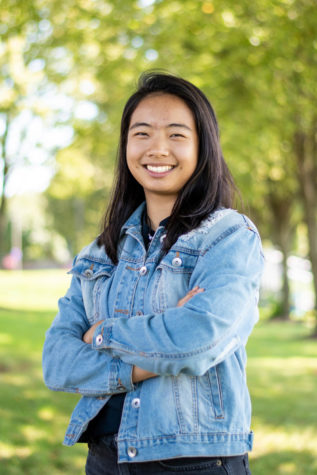 June Sun, Staff Writer
June Sun is a senior at Naperville North and a first-time staff member at The North Star. She is excited to incorporate her filmmaking and photography...