Huskie boys soccer looks to continue success despite challenges
Coming off their third year as state champions, the Naperville North boys soccer team is looking to live up to their legacy, despite significant injuries and the loss of graduated seniors. 
In spite of their challenges, the players have embraced the idea of "pressure is a privilege," a mindset led by Head Coach Jim Konrad.
A crucial blow for the Huskies this season has been the loss of starting forward, Patrick Koenig, who suffered an ankle injury early in the season, causing him to miss ten games. Despite not being able to play, Koenig still wanted to make an impact on the team before he returned. 
"No matter what happens, if I can play or not, I just want to support my team and make sure they are playing their best every game," Koenig said.
A key component in the team's success has been an increased focus on team values and improvement throughout the season. Junior Nikhil Javeri, a returning varsity player, feels pressure to continue the team's historic success.  
"There are a lot of great guys that have come through here in the last few years; everyone wants to keep the legacy going," Javeri said. 
Even with a great locker room mentality, first-year varsity athletes can still struggle to keep up with the team's intensity. Junior Pablo Olano has embraced that challenge.
"It's quite an honor, especially considering the history that Huskie soccer has and the three-peat in the last three years," Olano said. 
Similarly, a crucial piece of the team's wins comes from the bond that exists off the field.  Without this chemistry, it isn't possible to obtain the achievements North's team has in recent years. Senior captain and recent Ohio State University commit, Ty Konrad, has played on the team for four years and attributes their success to this bond. 
"It's awesome because it helps you develop as a player and make really good connections with your teammates," Konrad said. 
After a rough start by their standards, Naperville North currently stands at 11-4-2. As the team strives to improve, they look for new leadership to step up. One leader they will look towards in particular is Konrad, who even with a solid start, feels he can always improve.
"Honestly, it's something that I don't think I have done a good enough job at this year. I think I need to step that up to lead my team," Konrad said. 
While the NNHS boys soccer team may not have started off as strong as usual, one thing is certain: you never want to count out the three-time reigning state champions. The Huskies have started to turn their season around, winning the Best of the West tournament and beating DVC opponents Naperville Central by a score of 4-1, and Metea Valley, 3-0.
"Once we get it together, we are definitely in contention for a state title,"  Javeri said. 
About the Contributors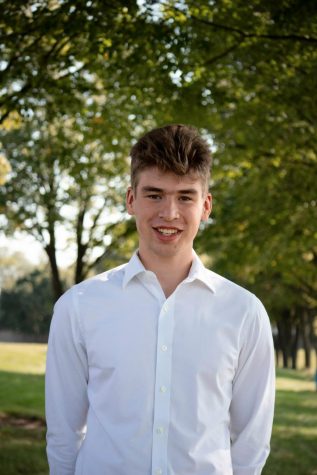 Alec Anstine, Multimedia Producer
Alec Anstine is a senior at Naperville North and will be working with all things multimedia this year. He hopes we can get back in school soon so there...
Adam Oppenheim, Sports Editor
Adam Oppenheim is a senior at Naperville North and is excited to start his second year on The North Star as Sports Editor. He is the lead broadcaster...